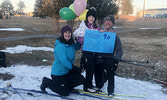 Sioux Lookout Nordic Nomads conclude this year's cross-country ski challenge
Reeti Meenakshi Rohilla -
Staff Writer
Sioux Lookout Nordic Nomads concluded this winter's cross-country ski challenge on March 31. The event welcomed 74 participants across five age groups, ranging from three to 80 years of age.
Sioux Lookout resident John Davies, from the 55+ category, was the overall winner with 1050.4 km skied. He said that he enjoyed being a part of this challenge. Davies added that he has been skiing for over 30 years and that skiing helps him ease his mind.
Davies, who also happens to be a long-standing member of the Nordic Nomads' Executive, said, "Not much to do with the COVID, so for the Nordic Nomads skiing club, we had a record number of memberships this year. I think it was a little over 330 members. So, that was great for our club. We are a small community and that's a lot of members."
"I think the event went great. It was a great way to get people out and ski and give them a little motivation, and it was a good challenge for people personally as well, a fun challenge between people," said Nordic Nomads event coordinator Melissa Zarecki.
The event offered participants an opportunity to challenge themselves both in days skied and kilometre skied. Nordic Nomads was also registered with X-Country Ontario (XCO) for a provincial ski challenge, where the club with the most kilometers skied would win a prize. Sioux Lookout finished in 19th place, out of 33, with a total of 12,980 km skied by all 74 participants. Thunder Bay's Big Thunder secured first place with 122,414 km and 214 skiers.
"We were going to do a ski challenge anyway, and we saw the provincial challenge and decided to add to that," said Zarecki. "We were competing with other clubs in the province. But, we also had our own little internal challenge as well," she added.
The club maintains 28 kilometres of trails.
Makayla Hoftyzer skied more days than any other participant in the ski challenge and skied the most kilometres in her age category, 6-11 year olds. She said that the skiing challenge was harder than it looked. "I learned that goals don't happen by themselves. You have to actually work through them. You have to actually go out and do them, instead of just sitting around and do nothing and wait for it to happen. You have to go out there and do something," Hoftyzer added.
Makayla's mother Marilese Keller said, "I think she had to learn some grit that I'm glad I didn't have to teach her. We are incredibly proud of her. We are so thrilled at how hard she worked…and we are so proud of the life-lessons that she has learned and hopefully she'll inspire others as well."