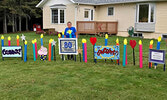 Sioux Lookout Lions Club fundraiser highlighting your special days
Reeti Meenakshi Rohilla - Staff Writer
The Sioux Lookout Lions Club has initiated their Celebration Fundraiser, a replica of an initiative by the Dryden GM Ice Dogs, a junior ice hockey team from Dryden. "It is an opportunity for community members to highlight special events such as birthdays, anniversaries, birth announcements, engagements, graduations, a special thank you or acknowledgement, etc. and share their excitement with others. For a donation of $20 or more, people can request a lawn display highlighting their special occasion," said Syrena Lalonde, who along with her husband Mike, have been Ice Dogs billet parents since last year.
The Celebration Fundraiser got underway on September 20. Lalonde, who initiated and is directing the event in Sioux Lookout said, "Our hope is to keep it going for as long as there is community interest. We have advertised via social media, on the Sioux Lookout Lions Club Facebook Page as well as the Sioux Lookout and Area Events and Services Facebook page. We ask that others share our information to help get the word out."
She added that the displays can be set up early in the morning and taken down that evening. However, clients can request a preferred display time. The display can be set up on rainy days as well.
Lawn display requests can be made over the phone at 216-7845 or via email at [email protected]. Lalonde said that the response from the community has been very positive. "Booking requests started coming in literally minutes after the posting went out on Facebook. People have been extremely generous in their donations, ranging from the $20 minimum donation, up to $80 to date. We already have bookings into mid-October," she said.
The Sioux Lookout Lions Club is a part of Lions Clubs International. According to Lions Clubs International's website, Lions Clubs International is the world's largest service club organization with more than 1.4 million members in approximately 46,000 clubs. It is spread over 200 countries and geographical areas around the world. Funds raised through the club support several community initiatives. "The Sioux Lookout Lions Club made a healthy donation to a family who recently lost their home in a fire. They support families who need medical attention in neighboring cities, purchase fireworks for the July 1st celebrations every year, have made donations for local firefighting equipment, and pay for the training required for the local firefighters to dispatch the fireworks every summer," Lalonde said.
The fundraiser's idea emerged locally, when Lalonde and her husband learned that the Lions Club in Sioux Lookout was looking for new members to join their club. Also, due to the cancellation of the Canada Day celebrations, which is the Sioux Lookout Lion's Club's biggest fundraiser of the year, they were looking for suggestions on alternative ways to raise money. That is when Lalonde introduced the idea of hosting a Celebrations fundraiser.
"Thank you for supporting the Sioux Lookout Lions Club. One-hundred per cent percent of the funds raised go back out into the community and support Lions Clubs International causes. The Lions Club is 100 per cent volunteer based. We are looking forward to helping people celebrate their special days and put a smile on many faces," Lalonde concluded.