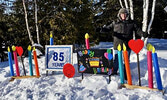 Sioux Lookout Lions Club continues successful Celebrations Fundraiser
Reeti Meenakshi Rohilla -
Staff Writer
The Sioux Lookout Lions Club's Celebrations Fundraiser, an alternate way for the club to fundraise during the pandemic, has quickly gained in popularity. Sioux Lookout Lions Club Secretary Lisa Larsh shared, "The Sioux Lookout Lions Club would like to thank the community for their enthusiastic support of our Celebrations Fundraiser, AKA the "Smile Maker"."
The fundraiser is an opportunity for community members to highlight special days like birthdays, anniversaries, engagements, graduations and other special occasions. For a donation of $20 or more, people can request signs and decorations highlighting their special occasion.
Larsh shared, "We've learned that this was something that was needed in a challenging time when we can't celebrate in typical ways. Many people are feeling the social isolation as restrictions continue. So, being able to make someone's birthday, or anniversary, or any special day a bit more special, and to bring a smile to their faces makes being out in -30 plus weather on a Northwestern Ontario winter morning totally worth it."
Larsh explained that 50 per cent of their funds are allocated to general community causes, as required. Twenty-five per cent goes towards Lions causes, typically involving organizations that have an affect in our area for assistance in several fields, such as vision, diabetes, environment, hunger and assisting children with cancer. Fifteen per cent goes towards Canada Day celebrations and 10 per cent is used for the project maintenance of this fundraiser. Larsh shared, "We were able to give a donation to a family who lost their home. We donated Fresh Market gift cards to the Nishnawbe-Gamik Friendship Centre for their Christmas Hampers. We made 17 fleece blankets for childhood cancer patients that will be distributed locally. None of this would have been possible without this fundraiser and the generosity of the community."
Larsh shared that it was disappointing being unable to conduct the club's largest annual fundraiser, Canada Day celebrations in Sioux Lookout. She added that the club looked at ideas for a fundraiser that was sustainable during COVID, and over the long term. The idea was initiated in July, and was ready for its rollout to the community by the third week of September. Larsh shared that the preparations involved making the signs, advertising and creating a booking method.
Larsh shared, "Orders began coming in the first day we advertised and have been steady ever since. Sometimes we even have two or three orders on the same day which can be challenging, but we get it done." The fundraiser was initially intending to run until the end of October, and begin again after the spring thaw. However, Larsh shared that they had many inquiries into whether they would continue throughout the winter months, thus they decided to give it a try. She added, "Winter creates its own challenges with high snow banks, cold temperatures and uneven surfaces, but so far, we have been able to complete every order."
People can book a celebration display through the Sioux Lookout Lions Club's Facebook page. New signs have recently been added to the Celebrations Fundraiser and the club has updated their booking form to make it more user-friendly. "We have orders as far into the year as July, so don't hesitate to order early!" Larsh concluded.