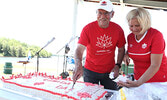 Sioux Lookout Lions Club confirms Canada Day fireworks, activities cancelled
Jesse Bonello - Staff Writer
In a Facebook post on May 19, Sioux Lookout Lions club member Debbie Michaud confirmed that this year's annual Canada Day activities and fireworks are cancelled.
"The Sioux Lookout Lions Club regrets to announce that due to COVID 19 restrictions and uncertainty, we will be cancelling our annual July 1, 2020 Canada Day activities and fireworks," the Facebook post informed.
Michaud said because the fireworks can't be purchased and put away for later the decision to cancel the annual event is not subject to change.
"It takes a considerable amount of planning and finances to pull that all together, and the fireworks aren't something you can buy and then put away for later... We just felt it was disadvantageous to plan for anything," said Michaud.
"We're really sad because it's one of the favourite things that we do for the community. We're disappointed too," she concluded.