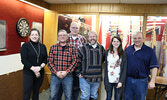 Sioux Lookout Legion open for business, promoting itself as the place to be
Tim Brody - Editor
The executive of the Edwin Switzer Memorial, Branch #78, of the Royal Canadian Legion is working hard to breathe new life into the organization and its building.
"The big thing we want to put out is that the Legion is open for business. Renting the halls, socials, whatever anybody wants, when the telephone rings, someone's going to answer," Legion President Kirk Drew remarked.
He shared, "There was a time that the Legion was in danger of being shut down due to a lack of things happening. The past executive did very well. They worked hard and were able to get a little bit of money in the bank so we're able to continue on with what we want to do. One of the biggest things we did as an executive was hire Polly (McCarty) to be our general manager."
Under McCarty and the new executive, the club room has increased its hours of operation from three days a week to six.
The club room is now open Monday to Thursday 5 p.m. to 9 p.m. as well as Friday and Saturday from 4 p.m. to 2 a.m.
McCarty shared the Legion has a dart league happening on Wednesday nights which is welcoming new players.
Thursday nights are Cribbage nights.
The Legion also has a pool table bocce group.
Further activities such as karaoke are being explored.
"In March we have a two day dart tournament," she said.
A CCR (Creedence Clearwater Revival) tribute band is scheduled to perform on March 22 and McCarty said the Legion will be trying to bring in more live entertainment.
McCarty also informed the Legion plans to have more of a public presence and plans to attend markets in town with membership forms and Legion clothing for sale.
"Just getting more people in the door. Showing them we have so much to offer," McCarty said.
Sergeant at Arms Mark Kendall said the executive would like people to know the Legion is a family friendly place and a wonderful venue for socials, weddings, awards banquets, meetings, kids birthday parties, and so much more.
"This whole building is about family and about looking after the family in the community. I think when it comes to the Legion, people think we're a family and we truly are. I know that the former executive set us up for success and we're just going to continue that on," he said.
"We want them (community members and current Legion members) to feel like they're part of it," commented 1st Vice-President John Cole.
He advised the Legion is in a good position financially, after not so many years ago being up for sale.
Second Vice-President and Financial officer Klaus Knorz added, "If it wasn't for John Cole, we wouldn't have a Legion here. So I want to thank John."
He also thanked members of the new executive for stepping into their roles.
Drew stated he couldn't remember the last time he had seen all executive positions filled.
Knorz also thanked Garth Hyslop and Vicki Getson of Stone Ashton & Wright for their accounting services and professional advice in support of the Legion.
A new initiative the Legion plans to run regularly is a meat draw, their first of which was held on February 8.
"Winning something like meat, people take that back to their family and that's what we're about," Kendall said.
"Money we raise stays here in Sioux Lookout. Whether it be building improvements here at the Legion, having a good facility to have events, or the Cadet Corp, or Junior Rangers, Canadian Rangers (all supported by the Sioux Lookout Legion). We haven't forgotten the military side of the Legion. I'm a veteran, Kirk's a veteran, John's dad is a veteran. One of the things that we're really pushing for is that we've got kids still serving. We've got kids overseas. Larry Laviolette's son is overseas. Kirk's son is in Petawawa. We want to make sure those guys know, that back at home, there are a group of people actively working for their betterment," Kendall said.
"They give back to us. We want to give back to them," Knorz echoed.
He added, "We picked up the meat from our local store, Fresh Market Foods. We always support local. They were very kind to us and gave us a discounted rate because they knew this was to support the Legion, so we would like to thank Todd (Nadon) and Tracey (Bullock), Fresh Market."
Kendall stated, "The reality is when people like Tracey and Todd give us a good deal on meat, or people like you come and write a story about us, that's when the community understands that the Legion, we've been here for a long time, but we're still here. We're working really hard. We want everyone to come here. We've got spots for kid's birthday parties, Christmas parties…"
Drew added, "My wife Tara Drew and her office also donated a pizza oven. So we're looking at starting to sell pizzas and provide more of a food opportunity for people to come down."
Sports Chair Cynthia Suprovich said she was very pleased with the number of people who came out for the meat draw.
She said the Legion is looking to bring back events such as a golf tournament, bocce tournament and perhaps a curling event.
Cole said it is community support that keeps the Legion going, as he said the Legion is only able to keep a very small amount of the money it fundraises. By far the majority of any funds they raise, he said, go back into the community.
Kendall went on to share, "Look at the support we get from the schools on Remembrance Day. They all show up, the teachers, the students… We have probably the best women's auxiliary of any organization in Canada. They do it all for free. As a veteran, I cannot tell you how many services this Legion has provided me over the years… I would not be here today if not for this building right here. I came back from Afghanistan and these people here in this community, are the reason I'm still here. That's the family we've built here."
That being said, Kendall said he would love to see his family in the Legion continue to grow, "We're always looking for new people, new members. We would love every single person in this community to be part of this. We see how awesome this is and we want them to see it. We have an unreal membership person who is killing it (Deb Roy)… Look at the eclectic group of people we have in this Legion, tradesmen, bankers, teachers; we're the only organization, that literally, everybody is welcome… It's very safe to say, that volunteerism is alive and well in Sioux Lookout. We're proud that people have chosen to give their time."
Drew thanked everyone who has contributed to the Legion and continues to do so.