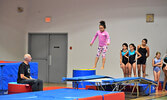 Sioux Lookout gymnasts build skills with help of experienced coach
Jesse Bonello - Staff Writer
Approximately 25 children, aged four to 12, strengthened their gymnastics skills during the annual Sioux Lookout Gymnastics Club Summer Camp, which is run by Coach Mike Lang from the Thunder Bay Gymnastics Association.
The summer camp, which ran from August 26 to 30, allowed gymnasts to build their skills while learning new techniques from Lang, who has 46 years of coaching experience.
Lang shared that he's been coming to Sioux Lookout for nearly 15 years to coach.
"It's going on 15 years soon for sure… I get the kids to do different stuff that they haven't done here," he said.
"They're always excited when I come here because I have different things, different techniques, different ideas, and I push them a little bit harder, but we also have to remember that it's a camp. We're not going to force them to do something they don't want to do. The whole point is to have fun and try different skills," he added.
"I think the girls really enjoy it. It's refreshing for them to have somebody new come in and teach new skills. I think he's more experienced than any of the coaches we have here, so that's another nice aspect of it. It also gets them inspired for the season to come by having this one week session," said Sioux Lookout Gymnastics Club past president and head coach Dale McGill.
The Sioux Lookout Gymnastics Club season starts on September 28 and runs until early April.
Parents will have two opportunities to register their children during registration nights that the club is hosting at the Sioux Lookout Recreation Centre from 5 p.m. to 7 p.m.
"We're going to have a registration night here at the Rec. Centre, in the lobby, on September 12… We're also going to have a second registration night on September 26," said McGill.