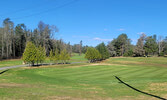 Sioux Lookout Golf and Curling Club gearing up for golf course opening
Mike Lawrence - Staff Writer
For those itching to get back out on the links, there's some good news out of the Sioux Lookout Golf and Curling Club (SLGCC). The club is on track to reopen the golf course for the May 23 long weekend, weather permitting, and as Austen Hoey, General Manager of the SLGCC, explained, despite the late snow melt, things are looking good.
"For the most part we are in really good shape," commented Hoey. "It's drying up pretty good, so May long should be no problem. "
Hoey continued, "We are excited to get things going. The course is in great shape, Kyle (Durante) and his team have done a really good job at making sure things are good to go. We are just excited for people to come out."
Once the course is officially open and ready for use the SLGCC plans to host its first golf event of the year on May 28, with a Par 3 tournament. As Hoey describes, "A Par 3 Tournament is where we turn the whole course into a bunch of par three holes. That allows us to run a tournament but still work on the course a little bit. Currently that tournament is capped at 36 entrants, but if we get a good enough response, we can open it up to a couple more. Then on Saturday, June 18 is our Iron Man Tournament, which is a two-person, 27-hole tournament. Past that we will have more tournaments coming up through the year."
Hoey said that although the course may already look inviting, it's not quite ready for use just yet, stating, "Although it does look like the golf course is ready for go, we encourage people not to come out and try to sneak on until the course is officially open, because it can be really bad for the course when people do that."
"If people want to come on down and check out our revitalized patio and our new pro shop section," Hoey adds, "Stop by, say 'Hi'. Maybe have a drink or two. We are looking forward to seeing as many people as we can!"
For updated information on the course reopening and upcoming events at the SLGCC, people are encouraged to visit the club's Facebook page at https://bit.ly/3yrmHFe, or call (807) 737-1800.
Tuesday, May 17, 2022
Correction to May 11 story: "Frozen Butts and Onion Sandwiches", former Sioux Lookout resident shares the story of his life...