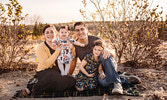 Sioux Lookout girl recognized for her generosity
Jesse Bonello - Staff Writer
A young Sioux Lookout girl was recognized after she chose to give all her birthday money to help provide life-saving clean water to a family in Ethiopia.
Five-year-old Rilynne Cospito decided to help the Ethiopian family through a Canadian-based charity that her parents support.
"We support a Canadian charity called Hope and Healing International. It's a monthly thing where you just send a bit of money every month and what they do is that organization focuses on children that have a double disability, so they're physically deformed and they're also in poverty. They only really focus on those kinds of kids where, not only are they poor, they also have a disability. These are things that can be corrected through surgery like clubbed feet, cataracts, cleft lips, stuff that's considered a simple surgery in North America but in wherever they're from it takes more coordination. Every three months they send us a newsletter, and they put a face to where the money is going. Usually they select one child and they walk you through that kids' recovery," said Joe Cospito, Rilynne's father.
"They send you a photo of the child needing healing then, a couple months later, you get to see the results of the surgery. It's pretty cool," said Andrea Cospito, Rilynne's mother.
"We've probably received four or five of those now, and she (Rilynne) loves to hear about those. It blows her mind because she can't understand why people's feet don't work, she always wants to know if they're going to be okay, and she just has a really tender heart when it comes to that. We always read her that magazine," said Joe.
Around October, Rilynne received mail for her birthday, which came alongside a Hope and Healing update. After opening her birthday card and hearing the update, Rilynne decided she wanted to support the Ethiopian family.
"The day this one came in, there was actually two pieces of mail. There was the update from Hope and Healing and there was also a birthday card from Rilynne's great-grandma. Rilynne opened her birthday card first and there was five US dollars in it, and she was really excited because that's a lot of money for a five-year-old kid. Later, I read her the update and it was about a young girl who lived with her family, and they had no water in their house. It's basically like a barn and, on top of that, I believe she has some disabled siblings as well. The goal for that drive was to make sure that this family that was living with a disability could get clean water. That same night, she came up to me and said she wanted to give her birthday money to Awokyi and her family. We told her she didn't need to do that and that we would send extra money for that month, but she said she wanted to send her money. We were pretty much in tears," said Joe.
"She coloured a picture, I wrote a letter telling them the story, and we sent that off, with the five dollars clipped to it, to the organization. We honestly forgot about it, and then several months later the organization contacted us wanting to do a Facebook post and a press release about it… After the press release went out, a Christian TV station or radio show got the press release and they wanted to do an interview with the Hope and Healing Director to talk about the story. It was in a 30-minute CTV episode and her story had maybe a one-minute spot, but still she (Rilynne) was talked about on the show and they talked about her story. We were pretty proud of her,... We were just hoping that the five dollars, because it came from her heart so purely, would encourage other people to do something, and I think it did. Her story got out," Joe continued.
"People heard her story through Facebook, through the press release, and through the TV show, so that's pretty special… You want your kids to have a heart of giving and for her to have demonstrated that without any prompting meant a lot to us," said Andrea.
The press release stated, "...it was a recent story and donation from five-year old Canadian girl, Rilynne, that showed the organization that younger generations are learning the foundations of giving back in an ever growing consumer-driven world. Rilynne chose to give all her birthday money to give life-saving clean water to Awokyi's family in Ethiopia - Awokyi's mother is blind and she and her younger siblings are in danger of meeting the same fate without access to clean water."
Rilynne said she decided to give her money because, "five dollars is a lot of money and it can make a difference."
When asked how it feels to help make a positive difference for people in need, she said, "It makes me feel happy."
According to hopeandhealing.org, "Hope and Healing International serves as the hands joining Canadians and people living with or affected by disabilities in the poorest communities – working together for the benefit of all… Children living with disability in developing countries are far more likely to be isolated, cut off from friends, community, education and a promising future. Whether a mom, a dad or a child is living with a disability, their whole family is much more likely to live in extreme poverty."