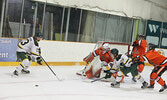 Sioux Lookout Bombers sweep Kam River Fighting Walleye
Tim Brody - Editor
The Sioux Lookout Bombers put two more points in the win column this past weekend, sweeping the Superior International Junior Hockey League's (SIJHL) league leading Kam River Fighting Walleye.
The Bombers beat the Fighting Walleye 7-2 on Oct. 29 at the Hangar (Sioux Lookout Memorial Arena) before a crowd of 344 people.
The previous evening the Bombers defeated the Fighting Walleye 4-1 in front of a crowd of 396 people.
The previous time these two teams met, on Oct. 14 and Oct. 15 at the Norwest Arena outside of Thunder Bay, it was the Fighting Walleye who were victorious, beating the Bombers 4-3, and 5-0.
Bombers Head Coach Carson Johnstone said following the team's Oct. 29 effort, "The last time we played them we tried to force offense too much, we didn't really commit to defense. That was our entire game plan the whole weekend, we wanted to commit to playing good defense. Our players did exactly what I asked of them and when you have weekends like that as a coach, it's easy to coach because they're doing everything right."
He added, "Honestly, fantastic weekend for these guys to take out a pretty good team and for them to build confidence too, believe in themselves, to have a weekend like that is huge."
The Bombers have been on a hot streak lately, beating the Fort Frances Lakers 4-1 on Oct. 21 and defeating the Thunder Bay North Stars 9-2 on Oct. 22. Both games were played at the SIJHL Showcase in Superior, Wisconsin at the Wessman Arena.
The Bombers fell 6-3 to the visiting Red Lake Miners on Oct. 26, then picked up the two wins against the Fighting Walleye.
As of Oct. 30, the Bombers were seated third in the SIJHL standings with seven wins and four losses.
The Bombers will take on the second place seated Dryden GM Ice Dogs on Friday (Nov. 4) at the Hangar.
Johnstone said of the team's recent record, "For us its kind of been the same story, we play the team the first time, with the exception of our home opener (a 5-2 win against the Wisconsin Lumberjacks), every game that we've played a team for the first time, it seems like we're kind of feeling them out. Maybe that's part of being new in the league. I've got no worries. I'm very happy with the way things are going right now, obviously tons of work to be done… but I'm pleased with our start and we're going to get back to work and get ready for Dryden."
Bombers players said it was great getting the sweep against the Fighting Walleye.
Forward Graeme Patrick, who had four assists on Oct. 29, shared, "I was glad I could help out offensively tonight. Tonight just shows how special of a group we have and if we play a full 60 minutes. This team is capable of a lot this year."
He added, "The first time we played them they definitely came at us a little harder than we expected. Carson prepared us really well and we held our own defensively and waited for opportunities and the power play."
Goalie Jake Manners was in net for the Bombers in both games against the Fighting Walleye.
"Everyone did their jobs. It's pretty great to come away with both wins," he said. "It feels good to get two back on them. Going forward we're just going to keep playing our hockey."
Forward Phil Parker scored two goals on Oct. 29. He said, "We came out here knowing that it was going to be a battle no matter what and we took it back to them tonight.
Commenting on his pair of goals he said, "I found myself in some of right spots tonight, scored some goals, got some good passes around me."
"That's the first-place team that we just took two (points) from and we couldn't be any happier than we are right now. We're ecstatic. The boys are super happy, I think we just build from here," he concluded.
Tuesday, November 1, 2022
What does it mean when we say ... keeping quality healthcare close to home...