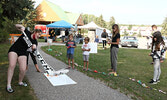 Sioux Lookout Bombers drop big announcement during Blueberry Festival
Tim Brody -
Editor
October 23 will be Hockey Day in Sioux Lookout!
The Sioux Lookout Bombers Jr 'A' Hockey Club made the announcement on August 6 during this year's Blueberry Festival, at a meet and greet event they held at the Sioux Lookout Travel Information Centre.
A special announcement video the team shared with those present informed that the day will include a mini-camp for local youth hockey players, a coaching clinic and symposium for local coaches and a Superior International Junior Hockey League (SIJHL) exhibition game between the Dryden GM Ice Dogs and reigning league champions, the Thunder Bay North Stars.
Bombers Director of Hockey Operations Austen Hoey shared, "We will be having a hockey camp on that Saturday, led by SIJHL players, as well as coaches. There will be some Bombers personnel there as well. That will be open to a bunch of different age groups…we'll also be having the coaches of both of the North Stars and the Ice Dogs there to do a coaching clinic, for any coaches in Sioux Lookout that would like to take part, and obviously we'll have the game on October 23, that will be run by us, and that's the best part about it because we get to unveil our jerseys, which we're really excited about. We've been working on them now for a couple weeks…we worked a long time on our logo. We thought that paid off. We think we have among the nicest logos in Canadian junior hockey and we're excited to show Sioux Lookout our home and away jerseys."
Information about the hockey camp and coaching clinic will be made available as soon as possible on the Bomber's website www.bombershockey.ca.
People can also stay tuned to the Bombers social media channels on Facebook, Instagram, Twitter, and YouTube.
Hoey said as soon as tickets become available for the game between the Dryden GM Ice Dogs and Thunder Bay North Stars, they will be able to be purchased at bombersmerch.ca.
"The reason we wanted Dryden and the North Stars, Dryden being, like James (Brohm, Director of Communications and Marketing for the Bombers) said in the video, is going to be our closest rival here once 2022 comes around and then the North Stars featuring Sioux Lookout's Dylan Bertrand, it will be fun for him to come home and play in front of some Sioux Lookout fans," Hoey said.
SIJHL Commissioner Darrin Nicholas said in the announcement video, that he, "Just wanted to take a moment to thank the community of Sioux Lookout for the overwhelming support that the Bombers have received since the announcement that they would be joining the SIJHL."
Hoey agreed sharing, "It's just fantastic the support that we've received so far, we wanted to give back to the community."
Hoey said, "The Blueberry Festival is such a great event here in Sioux Lookout that we knew we wanted to be a part of it. We wanted to get ourselves into the community a little bit more." He added, "We're selling lots of merch(andise), which is fantastic. Great to see people of all ages out to support the Bombers." The Bombers Blueberry Festival event included fun skill games and activities for all ages.
The Sioux Lookout Bombers will host their first major event on August 13 when 22 teams of four will participate in a Texas Scramble fundraising golf tournament at the Sioux Lookout Golf and Curling Club.
Morgan Fuels has signed on to be the title sponsor for the Bombers Golf Classic.
"The support has been overwhelming in terms of prizes and hole sponsorship," Hoey said.
"Slate Falls Airways has kindly put on this million dollar hole in one challenge, with two additional prizes of $10,000…One person will get a shot at one million dollars," he added.
Sioux Lookout's new Jr 'A' Hockey Club will take to the ice in September 2022 in the Superior International Junior Hockey League.
The hockey club is working to raise $150,000 in support through its Bombers Builders campaign by next July to cover the administrative expense of joining the league, the expansion fees, as well as the club's first year league fee, plus any other expenses they may incur.
"We want to make sure that the Bombers come into this and right off the get go, we're a top tier organization in the SIJHL. We want to make sure we're running as professional of an organization as we can and to do that, we want to make sure we have the finances in place to do that. We want to make sure this is a destination for players all across Canada," Hoey said, adding the hockey club would like to be competitive right from the first puck drop of their first game, "Winning games and success, that's a by-product. We want to make sure we're doing things right and if we do things right, if we have the right people in place, then the wins are going to come, the goals are going to come. It's a matter of making sure we do things the right way from day one."
Hoey said the team is well on its way to achieving that goal, "That was one of the reasons we wanted to start so early. We wanted to make sure we were off on the right foot, we had the right team in place, we had the right personnel in place, we found the right coach, we find the right hockey staff to make this thing a success, but also we wanted to make sure that we were financially stable…We're well on our way right now. The support here in Sioux Lookout has been fantastic. Right now, we're looking for volunteers if people are interested. We're going to have a lot of positions opening up." People can email [email protected]
"In terms of players, I've assembled a team of, give or take 12 scouts that are situated across Canada, whether that be in BC, Saskatchewan, Manitoba, southern Ontario, PEI, New Brunswick, and the northeastern United States as well. We're well on our way to formulating a game plan for this upcoming year, having this extra season where we get to look at players," Hoey said.
The team's slogan is Our Town. Our Team, and Hoey said the hockey club wants to sign hockey players and a coach that that will be a good fit for Sioux Lookout and enjoy living in a small town.
The Bombers would like to have their coach in place by April 2022, start their prospects camps in May 2022 and officially start signing players in June 2022.