Sioux Hudson Entertainment Series unveils 2023-2024 season line-up
Angela Anderson - Staff Writer
Get ready for a season of great entertainment courtesy of The Sioux Hudson Entertainment Series.
The organization will feature eight performances in their 2023-2024 season line-up.
Alyson Martin, Chairperson of the Sioux Hudson Entertainment Series Committee, went on to share, "We extend our heartfelt appreciation to the staff, students, and custodians of Sioux North High School for their ongoing support as valued community partners and hosts of our performances."
Martin exclaimed excitedly, "We have a variety of performances reflective of different musical genres, jazz, folk, world, blues, country, pop, with Steven Page of "Bare Naked Ladies," fame, dance, and theatre. This year's series promises a diverse array of shows."
Martin sadly noted, "As Motus O Dance Theatre takes the stage. They have been a cherished part of our community, gracing both Kids Kaleidoscope and the Sioux Hudson Entertainment Series throughout their illustrious careers. Regrettably, this performance marks their farewell as they transition into retirement. While we will miss their creative contributions, we are arranging dance outreach programs to continue their legacy in our community. Historically, their outreach efforts have benefitted students in local schools and residents at the William A. George Extended Care facility. We will keep you updated as we formulate plans to carry forward their impactful work."
Martin explained, "After facing pandemic-related challenges, we are thrilled to return to our "regular" presenting process." Tickets, including single tickets and subscription passes for adults, couples, and families, are available on Eventbrite. Martin excitably continued, "CHEERS! (Flowers and Gifts) has graciously agreed to sell passes throughout September, leading up to our first show on September 22, featuring the Rowdymen. This lively performance celebrates the music and stories of Newfoundland and Labrador, boasting band members with their own claim to fame in the world acclaimed "Come From Away" show."
Martin expressed just how much community support is vital to the Entertainment Series, "We are deeply grateful for the overwhelming support from our sponsors, including individuals, businesses, and organizations, who ensure that the performing arts thrive in our community. Our fundraising efforts, including the Friends, Supporters, and Patrons of the Arts initiative, as well as grants from the Ontario Arts Council, Canadian Heritage, Ontario Dances Program, and ticket sales, sustain our mission."
Martin concluded, "We remain committed to making our performances inviting and accessible to all, warmly welcoming both returning and new audience members. Our dedicated committee members eagerly anticipate the arrival of professional artists who will not only captivate us with their talents but also become part of our community's tapestry. Sioux Lookout has a unique way of leaving a lasting impression, a sentiment we deeply value."
People can find this season's line-up and information on ticket pricing at www.siouxhudsonentertainmentseries.ca.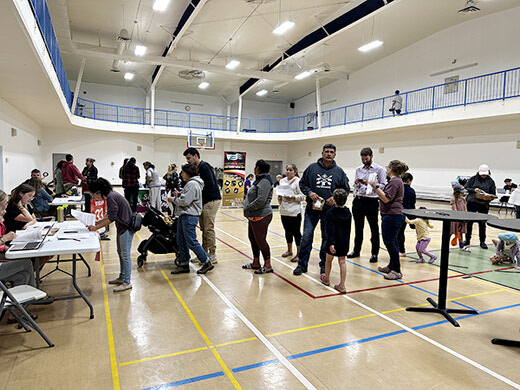 Wednesday, September 13, 2023
The Sioux Lookout community came alive on a vibrant Tuesday evening (Sept. 5) as the Recreation and Leisure Showcase, hosted by the Municipality of Sioux Lookout, took center stage...