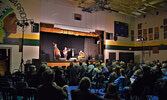 Sioux-Hudson Entertainment Series excited for upcoming season
Jesse Bonello - Staff Writer
September 19 marks the beginning of another Sioux-Hudson Entertainment Series season as big city performing arts return to Sioux Lookout.
This year's lineup boasts eight performances, which includes contemporary folk singer-songwriter Irish Mythen on Sept. 19, the comedic drama Person of Interest on Oct. 16, professional chamber choir Elmer Iseler Singers on Nov. 8, the Royal Manitoba Theatre Centre on Jan. 30, Canadian Country Music Awards winner Doc Walker on Feb. 21, Canadian folk rock band Lion, Bear, Fox on March 11, Canadian Contemporary Dance Theatre on March 24, and Canadian songwriters and multi-instrumentalists The LYNNeS on April 6.
Sioux-Hudson Entertainment Series chair Alyson Martin shared that the committee strives to provide a wide variety of performances for audience members.
"We really do try to have a good cross-section of performances and performers coming along… The lineup is like all of our other lineups where we really do try to have a comfort zone for people. They can come and they may not be familiar with the performer but, with the type of performance that it is, they can feel some comfort in knowing that they're seeing a specific genre," said Martin.
"We also really like to, and take pride in, exposing the audience to emerging artists, and not just the known but some of the emerging artists who are really up-and-comers in the Canadian performance scene," she added.
Along with award-winning musicians, Martin said she's excited to have two theatre performances in this year's lineup.
"We know that our community really enjoys theatre, so we have two theatre pieces this year. There's Melody Johnson and, of course, the (Royal) Manitoba Theatre Centre. Both of the performances are comedic," she said.
This year will mark the first season that Sioux-Hudson Entertainment Series performances will be hosted in the newly-built Sioux North High School cafetorium.
"We are going to be at the new Sioux North High School. We are really excited about this... We're really looking forward to sharing the space. It really does take the high school community to embrace us and let us in the door, and that goes from the administrative staff to the custodial staff, to the teachers, and to the students themselves who allow us to share the space with them," said Martin.
"What we are most excited about is the seating. Not only does it save us a tremendous amount of time, but it's also what we called raked seating… Based on the seating we've had historically, it can be a little hard some times to see the performances. We're really hoping that our dance performances will be better seen from that angle," she said.
The Sioux-Hudson Entertainment Series shared that, along with being able to see big city performers and performances, audience members almost always have opportunities to meet and connect with performers following the shows.
"This is a great opportunity for people to not only see the performers on stage, but they will connect with people afterwards… I don't think there's been one performer who has come through and hasn't taken the time to talk to people from all walks of life, all different ages, all different backgrounds, and all kinds of artistic interests. I think we are inspired by them, and they are inspired by the interactions they have with all of us. They love our audiences," said Martin.
The Sioux-Hudson Entertainment Series committee expressed their appreciation for the continued support from local sponsors and area audience members.
"In addition to the phenomenal support from our local sponsors, Patrons, Supporters and Friends, we apply to, and rely on, grant funding from Canadian Heritage, the Ontario Arts Council (OAC) and the Ontario Dances North Program," Martin noted.
Martin explained that, due to funding cuts, the Sioux-Hudson Entertainment Series, along with their fellow block-booking partners, are in the process of reapplying for funding.
"As we all know, when funding cuts occur at any level of government, it can have an impact on many key service sectors, and this was the case for us, as volunteer presenters and our block booking partners. In response to this, a number of us from the Northwestern Ontario Presenters Group met with our OAC advisors to address the loss of funding across our region and in other remote locations. We are in the process of reapplying for funding to ensure that we, along with our partners, do everything we can to continue to welcome professional artists, making themselves and their meaningful artistic forms of expression, available to all of us. Along with the OAC advisors, our Canadian Heritage Program Advisor, Board representatives and the membership of Ontario Presents, have provided support to address our situation at many levels. We look forward to presenting our 2019 – 2020 line-up and are in the throes of preparing for 2020-2021.
"We wouldn't be able to do what we do without you, our community members, supporting our volunteer endeavours through the purchase of subscription passes and single tickets, creating an audience for each and every show. We hope to see our longstanding audience members, as well as new faces, walk through the door of our wonderful new space at Sioux North High School continuing a growing appreciation for the performing arts; creating opportunities for collective community experiences; and, of course, bringing artists and audience members together," Martin commented.
"All of us on the team really appreciate the support that this community continues to give us and the performers that come to town, and we're really hoping that ourselves, and all of our other block partners, will be successful in our next round of grant writing endeavours," she said.
Irish-born Canadian contemporary folk singer-songwriter Irish Mythen will be kicking off the Sioux-Hudson Entertainment Series season on Sept. 19 at 7:30 p.m., which is a show that Martin shared is a can't-miss.
"This is a woman where, if you look at her bio, she's performed with Rod Stewart, Gordon Lightfoot, and Lucinda Williams at major music festivals around the world. When you actually get to see her standing on stage, it's just her, her guitar, and this voice like you would not believe. She has a great stage presence, and I think it will be a season opener that I think
people should not miss," she said.
Community members are encouraged to check out their website www.siouxhudsonentertainmentseries.ca to view this year's lineup, ticket prices, and sponsorship opportunities. All shows are at 7:30 p.m. at Sioux North High School.