Shriners raffle raising money to help kids

Tim Brody - Editor
The Sioux Lookout Shrine Club is raising money through a new raffle to help Shriners kids and their parents cover the costs of transportation to medical appointments.
Klaus Knorz of Sioux Lookout is Potentate of the Khartum Shrine Temple (Manitoba and Northwestern Ontario) for 2023. His wife, Tara Drew, is First Lady.
Drew shared, "One of our fundraising activities this year, there will be two big ones, one is the raffle in Ontario for a trip for two from Thunder Bay to Montreal to see a Montreal Canadians home game, a tour of the Shriners Hospital for Children, which is in Montreal, $500 spending money and two nights hotel accommodations. Second prize is two nights stay at a hotel in Winnipeg, and two Winnipeg Jets home game tickets."
Drew explained, "All of that money is going to go towards the Khartum Transportation Fund, which will provide transportation funding for a child and parent within the Shrine medical system. We do have a couple of Shrine patients here in Sioux Lookout, so that money will go towards supporting them in their travel to their Shrine medical appointments. That money will also help any other child in Northwestern Ontario within the medical network."
Tickets are $20 each and are on sale now. Tickets can be purchased from any Shriner. The Sioux Lookout Shriners are also planning to sell tickets at Fresh Market Foods.
Winning tickets will be drawn on Nov. 30 at 7 p.m. at the Legion.
The same prizes will be raffled off in Manitoba, and that money will go towards the Shriners Hospital for Children Canada, in Montreal, and specifically towards an arthroscopic tower, to help increase the number of surgeries they are able to perform and decrease wait times.
"The First Lady always picks a charity to raise money towards during that year of service, so the arthroscopic tower for the Shriners Hospital for Children Canada, which is in Montreal, my goal is to get that arthroscopic tower, but the great thing, although it was a challenge to navigate through the lottery systems in two different provinces, the good thing that's come out of this is that we'll also be raising money for our transportation fund," Drew commented.
"The Sioux Lookout Shrine Club, which is amazing in what it does, they will starting their barbeque season July 9 at the Dryden car show, and we'll be back in full force during the Blueberry season with our Shrine fries and our excellent barbeque," Tara Drew added.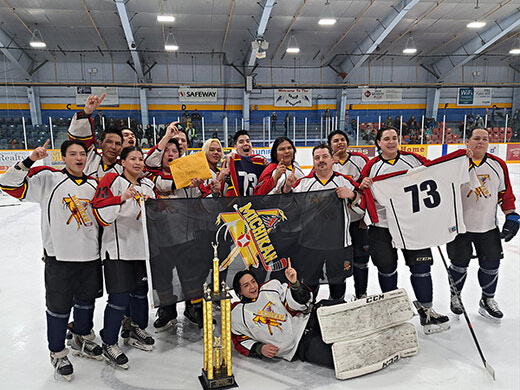 Tuesday, March 28, 2023
The 35th Annual Northern Bands Hockey Tournament took place in Dryden Sunday March 12 to Sunday March 19, 2023...