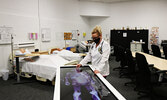 SGEI unveils new Health Disciplines Simulation Lab at Sioux Lookout campus
Reeti Meenakshi Rohilla - Staff Writer
Seven Generations Education Institute (SGEI) has unveiled its Health Disciplines Simulation Lab, which resembles a realistic medical setting, to hone students' skills at its Sioux Lookout, Kenora and Fort Frances campuses.
"The simulation lab is a state-of-the art lab that resembles a real-life health care setting, equipped with interactive patients for students to diagnose and care for, authentic medical equipment, and teaching technologies. The simulation lab is a space for our health disciplines students to gain experience before entering the workforce and practice their skills without fear of harming real-life patients," shared Kaitlyn Allen, the Communications Specialist for SGEI.
According to SGEI, the simulation lab, also known as Imbimiwidoomin Mino-ayaawin in Anishinaabemowin, offers a safe and supportive learning environment to help build confidence and refine skills for students in the health disciplines. The Health Disciplines Coordinator for SGEI, Nicole Robertson said, "I think that having the simulation lab here in Sioux Lookout, being the Hub of the North, I think it's paramount for our northern communities to be able to have access and be a little bit closer to home. For students that don't want to, despite COVID, travel for education, and be away from their families, I think it is very important to be able to offer this here in our community. It's definitely a need."
Robertson said that this new interactive technology allows instructors to recognize specific areas where a student may need improvement, before they begin to practise in the real world. "We can easily, as an instructor, identify strengths and goals of our students and areas where they may need some more focus on the training, prior to going into a real clinical setting. So, they get the opportunity to practice their skills as many times as they need to, and therefore, hopefully it will reduce the amount of human error in an actual clinical facility" she said.
Two of the most interesting segments of the Simulation Lab are the Laerdal Patient Care Manikins and Trainers, and the Anatomage Table. SGEI shared that Laerdal Patient Care Manikins and Trainers are realistic patient mannequins designed to train learners in the care and management of a variety of in-hospital patients. Each mannequin is equipped with technology to simulate coughing, breathing, peripheral pulses and other bodily functions. Robertson said, "The premise of the mannequins is that I can go through a variety of scenarios based on different case studies that I wanted to facilitate for the students." She added, "I'm able to go through and make sure that the students go through the correct steps to identify the needs of the patient, right down from vital signs to taking a leadership role to communicating effectively. So, it's a great tool for students to be able to test on, and to practice their skills." She explained that the technology allows instructors to rectify targeted steps that students may have missed.
The Anamotage Table is a life-sized 3D anatomy visualization and virtual dissection table. Robertson said, "It's a 3D visualization and virtual dissection system for anatomy and physiology education with uploaded cadavers and many more specimens. It uses a touch screen software that allows users to delve deeper into the human body." She explained that the table has four different human body types, and over a 100 specimens that have been uploaded. "Right from snakes to whales, to mice, to cats and dogs. So there are many options to do the 3D imaging of each of those."
The Mastercard Foundation and the Indigenous Institutes Operating Grant fund SGEI's Simulation Labs. Robertson said that just SGEI's students and instructors have been able to utilize the table so far as it only arrived recently. She added, "If anybody wanted to utilize the equipment, they are more than welcome to reach out to me, and abiding by COVID regulations, we would just look at how we can deliver and facilitate that for them." Anyone looking to get further information can contact Robertson at [email protected] or her office number at 737-2897, Ext. 4202.
SGEI's Director of Post-Secondary Education, Angela Mainville mentioned in SGEI's news release that no other post-secondary institute in Northwestern Ontario has this quality of simulation. Robertson said, "I am extremely excited for our students. I think it's an amazing opportunity for them. I think they are going to have all these resources at their fingertips versus somewhere else. I think it's very engaging and it gives our students a sense of community belonging where they get to come in and interact with their peers, and be able to practice and get confident in their skills and abilities."
According to SGEI's release, it is an Indigenous led educational organization that provides secondary, post-secondary, training for employment and other programming to all Indigenous and non-Indigenous people in the Treaty #3 area and beyond. With campuses in Sioux Lookout, Fort Frances and Kenora and secondary education classrooms in more than 20 communities in Northwestern Ontario, SGEI aims to provide culturally enriched community-based and student-centered learning opportunities for everyone.
SGEI began providing Adult Education programming in partnership with the Keewatin-Patricia District School Board (KPDSB) starting September 2019 and Post-Secondary programming in September 2020 at its Sioux Lookout campus. Practical Nursing and Personal Support Worker students will begin using the lab come September 2021.
"I look forward to the students being able to attend school in person and being able to practice their skills with their peers and just being able to interact with all of our equipment and being able to get the best education possible" concluded Robertson.