SGEI Sioux Lookout Campus welcomes community to Open House

Mike Lawrence - Staff Writer

The Seven Generations Education Institute (SGEI) welcomed the public to an Open House at their Sioux Lookout Campus on June 16. SGEI, according to their website (https://www.7generations.org/), "is an Indigenous led educational organization that provides high school, post-secondary, training for employment and cultural programming to all Indigenous and non-Indigenous people in the Treaty Three area and beyond."
The Sioux Lookout Campus, located at the former Queen Elizabeth District High School at 15 Fair Street, has been in operation since 2021, and offers many learning opportunities including an Adult Education Program in partnership with the Keewatin-Patricia District School Board, an MTO approved Beginner Driver Education (BDE) course, and several health care related programs including Bachelor of Science in Nursing, Emergency Services Fundamentals, and a Personal Support Worker course.
Speaking with Nicole Robertson, Health Discipline Coordinator for SGEI, the institute has a lot to offer potential students, noting, "What sets us apart from many other education institutes is that we have the technology, and we have incredible support staff that will help with any barriers that the students may face when it comes to education. I think that's very important."
Robertson continued, "We've had a few cohorts go through our programs. I've also run a PSW (Personal Support Worker) program for the community of Lac Seul. Of the nine applicants, we graduated four, who just finished their graduation last week."
Robertson adds, "We currently have a year three PSN cohort and a year two practical nursing cohort, and this September we will have two of each cohort and two more PSW programs, an emergency service fundamental program, a health and fitness program, a police foundation and a human resource program. It's for anybody that's interested. They can reach out and I will help them navigate, it's for everybody."
One of the purposes of the Open House was just to let the public know that SGEI is present in the community and allow interested individuals to get a sense of what SGEI has to offer. Robertson commented, "I think people don't really know we are here, and maybe don't know our location, so if anybody has any questions, they can reach out to any one of the coordinators on the SGEI website."
More information on SGEI and the Sioux Lookout Campus programming can be found at https://www.7generations.org/sioux-lookout-campus/.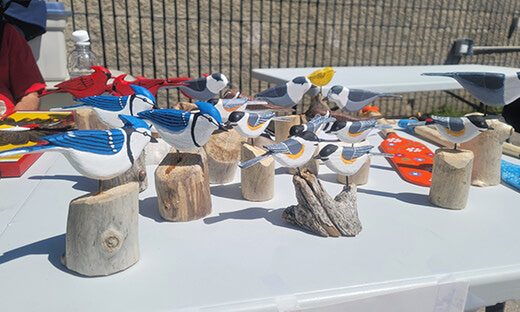 Tuesday, June 21, 2022
The parking lot at the Sioux Lookout Area Aboriginal Management Board (SLAAMB) was the place to be on June 17 if you wanted to find just the right gift for Father's Day...