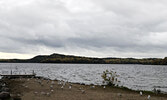 September a wet month in Sioux Lookout
Tim Brody - Editor
September was a wet month in Sioux Lookout, with Environment Canada informing the community received double the average amount of rainfall it normally receives.
Warning Preparedness Meteorologist Gerald Cheng said Sioux Lookout received 184.7 millimetres of precipitation in September, with 92.1 millimetres of precipitation being the average for the month.
Sioux Lookout was about a degree cooler than average this past month, recording an average daytime high temperature of 15.8 degrees Celsius. The average daytime high temperature for the month in the community is 16.6.
The hottest day of the month was recorded on Sept. 17, when the daytime high reached 26 degrees Celsius.