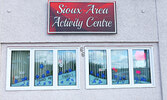 Seniors centre window display showcases Blueberry Festival spirit
Reeti Meenakshi Rohilla -
Staff Writer
Sioux Area Seniors Activity Centre member Charron Sippola, with help from Sandra Lockhart and Joan Kydd, have added to the spirit of the Blueberry Festival in Sioux Lookout with their latest window display of several blueberries and part of a popular 40's song.
Being reminded of a popular song published in the 1940's, Sippola printed on the centre's windows, "I found my thrill on Blueberry Hill." Sippola said, "It's cute, it's different. I just wanted something fun, and funny, something that deals with the Blueberry Festival."
"I've done lots of blueberry windows, so I wanted to come up with something new." She added, "And the only thing that I could think of was the song Blueberry Hill. So, I used that, and (paintings of) blueberries doing various things."
Sippola hopes to continue to put smiles on people's faces with her window display at the senior centre. "I hope it makes a smile on someone's face. Everyone knows the song, I found my thrill on Blueberry Hill…"
After a long period of remaining closed, Sippola reminds people that the seniors centre is now open in limited capacity on Mondays, Wednesdays and Fridays between
9 a.m. and 11:30 a.m.