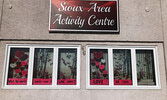 Seniors activity centre February window theme is Valentine's Day
Reeti Meenakshi Rohilla -
Staff Writer
Sioux Area Seniors Activity Centre member Charron Sippola, with assistance from fellow members Sandra Lockhart and Joan Kydd, has created a Valentine's Day themed display on the centre's windows for the month of February.
Sippola shared, "Its Valentine's Day coming up and the window's words say, 'What the world needs now… is LOVE, SWEET LOVE.' I just thought, knowing all the pandemic and the stuff that's going on in the world, that, that's what the world needs. It ties in with the Valentine's Day theme, simple words, and I think it's just something to make someone smile or laugh as they drive or walk by the window."
While Sippola had occasionally been decorating these windows for some years, for over six months now, she has tbeen updating the display every month on the Front Street facing windows of the seniors centre. She said, "Since I'm here throughout this winter, I thought that we'd try to do one a month, and try to vary the theme and try to get something up for people to look at, and make their day a little better as they drive by and see something funny."
Sippola said that she thinks there is something happening every month, and something that she could paint about. While the seniors centre is currently closed, Sippola said that, abiding by all safety precautions, decorating the windows each month is something she enjoys putting her time towards.
"I like helping people, so I thought this is a good way for me to use some of my talents. I just want to give people a smile during the day. It could be a tough day for them and with everything closed down and not being able to visit our friends, I thought it'd be nice to just see something different on the window. So, that's just my goal," she concluded.