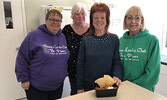 Sellout lunch
Homemade lunches of taco salad and seasoned tortilla crisps sold quickly at St. Andrew's United Church during a lunchtime fundraiser for Sioux Looks Out for Paws animal rescue last Friday.
Proceeds will be used to pay for vet bills for animals in the care of the animal rescue.
The organization is in need of small leashes and collars as well as cat litter.
People can contact the shelter through their Facebook page, Sioux Lookout Rescue.
From left: Sioux Looks Out for Paws volunteers Lynda Ducharme, Donna Ducharme, Judy Henrickson, and Joan Dykes. Missing from the photo is John Dykes, who helped deliver lunches.