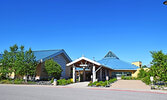 Second Moderna vaccinations complete, underway says SLMHC
Tim Brody -
Editor
"SLMHC is happy to report that all ECU (Extended Care Unit) / ALC (Alternate Level of Care) residents who received a first dose of the Health Canada approved Moderna vaccine have now received their second dose. All eligible staff are expected to have received their second dose by February 28," shared Sioux Lookout Meno Ya Win Health Centre (SLMHC) President and CEO Heather Lee.
ECU residents and staff at SLMHC's William A. George Extended Care Facility were the first to receive the vaccine on Jan. 7.
According to Health Canada, "The (Moderna) vaccine is given by an injection (0.5 mL) into the muscle of the arm. For the vaccine to work best, you need to get 2 doses: a single dose and then a second dose one month apart."
Asked how staff and resident vaccinations might impact visitor restrictions and policies in place at SLMHC and the ECU, Lee stated, "At this time, we're following provincial guidelines. Patient/resident/health care worker safety is our top priority. We continue to monitor the situation across the province, and when appropriate to do so we will adjust the visitor restrictions and update the public accordingly."
Current visitor restrictions and COVID-19 polices can be viewed at www.slmhc.on.ca/covid19.