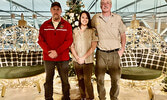 Scott Wiseman returns from fire management deployment in Australia
Jesse Bonello - Staff Writer
Sioux Lookout resident Scott Wiseman has been working for the local Ministry of Natural Resources and Forestry (MNRF) since 1988, where he works in his current role as Fire Operations Supervisor. His dedication to assisting with fire management recently led him to Australia, which saw him serve a 31-day deployment to help combat devastating fires across the country.
"The very first group went on December 3. I went on December 30. On December 3 there was three people sent, then they sent six more on December 19, and then I was one of three that went on December 30… It was a 31-day deployment with a day of travel on either side, so it was around 33 days in total," said Wiseman.
"My role is operations, so what I do is I integrate into the operations room down there. We were working out of the Cooma fire base. Their system is quite different so they rely heavily on volunteers to run the fires and work on the fires, so the first little bit was spent adjusting to what exactly my role would be. I had the opportunity to hook up with one of the Safety Officers, go see some of the countryside, and gather intel. One of the big problems that I saw as soon as I got there was they were having trouble getting intel from the field and on the maps. It was smoked in, so they couldn't use aircraft to recon where the fire perimeters were so they were relying heavily on the crews that were out to keep them updated as to where the fire progression was.
"I went to the field with maps, I met some of the Divisional Commanders, I sat down with them, and I had them map out the fire perimeter, map out where the dozer lines are, where the water sources are to gather intel and then bring that back into the office. I did that for the first week, and it provided me a couple things. It provided me insight into the fuels and fire behaviour, and it also gave me relationships with some of the people that I would be working with, that are the Divisional Commanders, who are running the fires. When I went back into the office part and started working out of the office for the next three weeks, I was able to put a face to a name and we had that conversation face to face earlier so, over the phone, it was just a continuation of that," he explained.
Wiseman said the work began right away when he stepped off the plane in Australia due to the size and number of fires across the country.
"We landed in Brisbane and, when we were in the plane, things really blew up in New South Wales and Victoria so, when we hit the ground in Brisbane, they said they were redirecting our group to New South Wales. There was a higher requirement for us there so we hopped back on a plane and flew from Brisbane down to Sydney, and from Sydney we did our orientation. It's an interesting take when you have someone who's giving you the briefing, they tell you they've been doing this for 44 years, and they've never seen anything even close to this in their career, and they've seen some pretty bad days, so the scale of what was going on was the biggest thing with the sheer number of fires and then big fires. It's one thing to have multiple fires, but they had really big fires and some of them had been burning for over a month," he said.
"When we flew down there we had to get our sleep schedule adjusted, so that first day I stayed up until 9 o'clock Australia time (Australian Eastern Standard Time), which put us at almost 40 hours of being awake so we could integrate. We weren't fatigued, but there was a lot of fatigue issues going on down there… They were already fighting fire for well over a month by that point. It was interesting integrating into the actual experience of working in Australia, adjusting to the temperatures, adjusting to the fuels, and wrapping your head around things. How they do business is a little different from us, but it's still very similar. It's large fire management, which is doing all you can to minimize the effects of fires on the infrastructure, on the communities, on houses but, at the same time, the fire has the upper hand so we move people out of the way, protect structures, and just try to minimize the impact," he continued.
BBC reported, as of Jan. 31, "At least 33 people have been killed - including four firefighters - and more than 11 million hectares (110,000 sq. km or 27.2 million acres) of bush, forest and parks across Australia has burned… In the worst-hit state, New South Wales (NSW), fire has affected more than five million hectares, destroying more than 2,000 houses and forcing thousands to seek shelter elsewhere."
Wiseman said the wildland firefighting community tries to help each other out as much as possible, which is one of the influencing factors that led him to Australia. He said he worked with Australians who deployed to Canada to assist with fires in 2017.
"One of the reasons why I wanted to go down there and assist with it is I know they're having a really challenging fire season. I was watching it in the news. We all pay attention to what's going on around the world when it comes to fires, and Australia has very unique fuels, very unique temperatures where you're talking into the 40's (degrees Celsius)… They've come over here on specific occasions. They've been to BC and Alberta, where I've worked with them out there… In 2017 when BC was having a really severe fire season, and some of their towns were being impacted like Williams Lake, I was out there and I met several Fire Behaviour Specialists from Australia. I worked with the Air Attack Specialists there, so you run into them, you meet them, and they're hard working people very similar to ourselves," said Wiseman.
"A big take home point for me was I've seen a lot of fire behaviour all across Canada and the States, but to see it now in Australia was a totally different environment. Those people and volunteers worked so hard. It was pretty unbelievable what they do. It's an interesting experience and it's one that I'll remember for a long time," he said.
The Sioux Lookout MNRF said Bill Bertrand was recently deployed to Australia on Feb. 9, where he will provide fire management assistance.