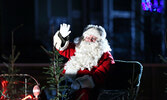 Santa Claus is coming to town!
Tim Brody -
Editor
A holiday tradition will resume in Sioux Lookout on Sunday, Dec. 5 at 5 p.m. when the Sioux Lookout Chamber of Commerce presents the Santa Claus Parade.
The parade will follow its traditional route, starting at the corner of Third Avenue and Fair Street, travelling south down Third Avenue to Front Street, heading west across Front Street to Sixth Avenue, then proceeding North to the Fresh Market Foods parking lot.
People can call (807)-737-1937 or email [email protected] to register a float.
Christine Hoey, Sioux Lookout Chamber of Commerce Manager and Board Member said 10 floats are already registered and the more, the merrier!
Hoey is also encouraging people to mark Dec. 18 on their calendars, when the Chamber will present its Last Chance Christmas Market, running from 10 a.m. to 2 p.m. at the Edwin Switzer Memorial Legion.
Crafts, clothing, baked goods and more will be available. "It's a chance for people to get out and finish their last-minute shopping. We've already secured 14 vendors for the day," Hoey informed.
All vendors and patrons must be fully vaccinated and bring proof of vaccination to attend. Masks must be worn, and social distancing will be observed.
Vendors can call or email the Chamber to register. Registration forms are also available at www.siouxlookout.com.