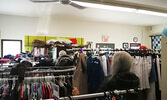 Salvation Army praises Sioux Lookout's consistent generosity, support
Jesse Bonello - Staff Writer
Sioux Lookouts' Salvation Army Thrift Store is looking to the community to continue its generous and supporting ways.
Store volunteer Lois Mombourquette, who has been involved with the Salvation Army since the 1990s and is among a team of about 50 volunteers there, shared that the community's support has been instrumental over the years.
"In every step of the way, it was the community support that has built the store into what it is today," she said.
"People are very generous with their time in terms of helping at the store and also people in the community are very generous with their donations, both financial and material," she continued.
Sioux Lookout resident Bobbi Roberts, accompanied by her son Jack who is two-and-a-half years old, shared that the prices are good and it's her son's go-to toy store.
"It's his (Jack's) favourite place to find new toys. The price is right. We got his hockey helmet here and lots of other goodies. He usually picks a toy to give up when he comes here," she said.
A Letter to the Editor last week, on behalf of all store volunteers, expressed hope in finding new volunteers to replace departing, and valuable, members of the volunteer team.
Since then, people in the community have already started stepping up to give of their time.
"It seems almost miraculous some of the solutions that have come up. The Letter to the Editor has resulted in at least five people who came forward saying they would like to volunteer," said Mombourquette.
Mombourquette explained that her experience as a volunteer has been great, especially when it comes to seeing the positive impacts within the community.
"It's been a fabulous experience both being involved as a volunteer and seeing the positive impacts that it gives for the community…On average, we donate between 25,000 and 30,000 dollars, most of it back to the community, per year. That's just from selling clothes and housewares that people donate to us and then we sell those for extremely low prices. I think we must be one of the least expensive second-hand stores that I have ever been in. There are not too many second-hand stores that would sell clothes by the bag, so everybody wins in that situation.
"There are all sorts of other projects that we've started with the store. We get a lot of books, and we couldn't even begin to put out the number of books we have at the store. We sell books, but we don't sell nearly as many as what gets donated to us. A few years ago we started a book shelf at the airport, which the airport has been generous enough to put up. There's a little donation box in there that's on one of the shelves. The money that little project donates is way more than any amount of money we could make for books in the store," she concluded.
If you think you can offer your time, or if you have a group of friends that would like to help out, the Salvation Army would love to hear from you. You can leave your name at the Salvation Army Thrift Store located at 13 Robert Street, or contact Cathy Bowen at 737-1573 or Lois Mombourquette at 737-1302.