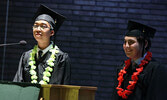 Sacred Heart School Valedictory Address
Justin Lee and Jaxson Coughlin - Valedictorians
Justin: Good evening everyone! Thank you all for joining us at this very important milestone in our lives. After 10 long years, we are finally graduating, just to go back to school again… We've had 10 years of reminders that our names should be the first thing we put on our work… So, I guess it's time we introduce ourselves. My name is Justin and this is my friend Jaxson. It is our honour to be the valedictorians for the class of 2023. We wouldn't be here today without the everlasting support from our teachers, friends and peers.
Jaxson: A huge shout out to all of the Sacred Heart Staff for instilling the knowledge we have within us today. Especially all of our teachers who tolerated our behaviour, which in retrospect, was probably pretty mean… Like how we yelled and threw stuff at them, or how we would plug wireless mouses into their computers and mess with their lessons, close their tabs, all that fun stuff! Not to mention all the other questionable things we did…You can interpret this however you want, but truth be told, this was meant to serve less as an apology and more as a warning for our future teachers…
Although we were less than commendable to our teachers over the years, they still put forth valiant efforts to support us in our learning from all that we lost due to Covid. Covid impacted all of us dramatically. It rid us of many experiences… We lost many field trips, a grade 6 Winnipeg trip, the parting memories we always looked forward to: the Toronto trip. Despite our loss in many different opportunities, we still gained many memories and skills in the small everyday moments of our classes. Our experience with Covid has been positive, literally and also in the sense that it cultivated our understanding and proficiency with technology, like why you should turn your camera off before filming TikTok's… Covid has also brought many challenges, obstacles. But in that, we have become more resilient. Only through fire is a strong sword forged. We have learned a very valuable life lesson; not everything in life will go as planned… We have learned to innovate, adapt, and overcome.
Justin: And while our time at Sacred Heart has given us so many memories to look back on, it also gives us the opportunity to look forward into the future; who we want to be as people, who we want to become, our dreams and our aspirations. Dreams can only become a reality if you have the courage to pursue them. As Christopher Colombus once said "you can never cross the ocean unless you have the courage to lose sight of the shore". It's going to be scary venturing outside of your comfort zone and you are inevitably going to encounter difficulties and make mistakes. It is these times of doubt and failure that add value to our success and achievements. The size of your success is measured by the strength of your desire; the size of your dream; and how you handle disappointment along the way… Whether or not you choose to persevere in the face of difficulty. To have tenacity in the face of adversity.
As we enter a new chapter in our lives with unprecedented challenges, I want you to know that I will continue to support all of you in your future endeavors. In a way, you have all become my home away from home. I couldn't have been more glad to have spent my time here with anyone else. Thank you.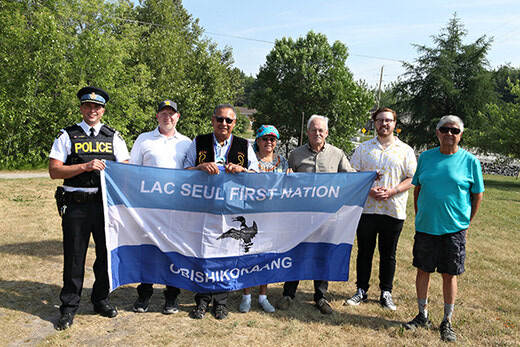 Wednesday, June 28, 2023
"If any community should celebrate (National) Indigenous Peoples Day, that isn't a First Nation, it's certainly Sioux Lookout," shared Sioux Lookout Mayor Doug Lawrance on the morning of June 21, National Indigenous Peoples Day...