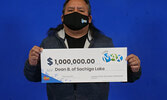 Sachigo Lake First Nation resident wins $1 million
Tim Brody -
Editor
Dean Beardy of Sachigo Lake First Nation plans to build a chapel for his community after discovering he had the winning ticket for a MAXMILLIONS prize worth $1 million from the December 7 LOTTO MAX draw.
Beardy, a 58-year-old grandfather, says he is an occasional lottery player. "I usually pick up a LOTTO MAX ticket a few times a year when the jackpot is big," he shared while at the OLG (Ontario Lottery and Gaming Corporation) Prize Centre in Toronto to pick up his winnings
Beardy, who checked his ticket using the OLG App, said of discovering his good fortune, "I couldn't believe it. I almost cried." He added, "I had to convince myself it was real!"
Beardy shared news of his win with his parents right away, "They were shocked and very happy for me. We celebrated together with tea and cookies."
He said of his plans to build a build a chapel for his community, "Everything I do in my life is for my community. They are my family."
The winning ticket was purchased at Bobby's Corner on Armstrong Street in Vermilion Bay.