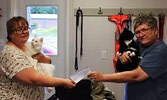 Rotary partnership supporting schools, organizations in Sioux Lookout, Lac Seul
Tim Brody - Editor
The Rotary Club of Sioux Lookout is supporting five area schools, as well as Hub Transit and Sioux Looks Out for Paws animal rescue, with its share of Rotary Bingo proceeds.
An annual fundraiser operated by the Rotary Club of Dryden, the Rotary Club of Sioux Lookout partners with the Dryden Club, assisting with the distribution of cards and collection of local sales.
"Despite COVID-19 causing the Rotary Bingo to stop before completing the season, the Dryden Rotary Charitable Foundation has again allotted $16,000 for Sioux Lookout Organizations," a news release from the Rotary Club of Sioux Lookout informed.
"Proceeds from the bingos are returned to the communities in the area where tickets are sold. As a result of Rotary Sioux Lookout's partnership, the Club has an opportunity to direct a portion of the monies from the bingos based on the local sales to local organizations," the Rotary Club of Sioux Lookout further explained.
Proceeds of the 2019-2020 year are being shared among Lac Seul Education Authority, Sioux North High School, Sioux Mountain Public School, Sacred Heart School and Pelican Falls First Nations High School, for their student nutrition programs.
"The Club has assisted the school nutrition programs for several years with donations from the bingo proceeds. This year we have reached out to the Lac Seul Education Authority to develop a relationship with their schools," the Rotary Club of Sioux Lookout explained.
The Rotary Club of Sioux Lookout added, "Charitable organizations and non-profit organizations that primarily benefit the citizens of the Sioux Lookout area can apply for funds through the Rotary Club of Sioux Lookout or directly to the Dryden Rotary Charity Foundation. For further information, contact [email protected]"
The Rotary Club of Sioux Lookout is thanking Fresh Market Foods, DJ's Gas Bar, Sioux Lottery, and Red Pine Store in Kejick Bay, who sell tickets for the weekly bingos.