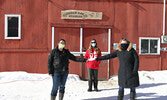 Rotary donation helps horses at Cedar Bay stables
Tim Brody -
Editor
A $1000 donation from the Rotary Club of Sioux Lookout to the Friends of Cedar Bay has helped Cedar Bay stables purchase much needed tack and blankets for its horses.
"We have some issues with not enough equipment (tack), so we've asked them if they could help us out and they said yes," shared Mike O'Brien, a Friends of Cedar Bay Board Member and Cedar Bay stables co-op member who board's a horse at the stables.
"What we've done is we bought some winter covers for Nala (a horse owned by the stables) and the new horse that we're going to get," he said.
Rotary Club of Sioux Lookout President Tara Drew commented, "It was our pleasure to provide $1,000 in funding to Friends of Cedar Bay to purchase tack and blankets for the horses being used in programming for youth in our community. Rotary has six key areas of interest; in particular, Rotary is concerned with providing development for youth and experiences that will foster learning, leadership, and personal development. Through the present program at Cedar Bay, all of these attributes are being promoted through the work with the horses.
"When we help to provide opportunities within our community for youth, not only will the community benefit, but also our futures."