Rotary Club of Sioux Lookout hosts 19th Annual Lobsterfest
Tim Brody - Editor
Approximately 150 people attended the 19th Annual Lobsterfest dinner and dance hosted by the Rotary Club of Sioux Lookout last Saturday evening at the Sioux Lookout Golf and Curling Club.
The event included both silent and penny auctions. Rotary Club of Sioux Lookout Treasurer Susan Barclay said, "We had an outstanding response from the businesses in the community giving us things that we could put on the tables."
Reflecting on the evening, Barclay shared, "It was a success. From what I could see people were having a wonderful time. I've had comments from a couple of people, one person it was the first time she had ever been to Lobsterfest, so it was fantastic."
Barclay shared, "We're down certainly from our traditional pre-COVID attendance, there could be a lot of factors in that. Not the least of which was the Bombers game was on and they were full too… there was a lot going on in town this weekend… Certainly the people that were there had a wonderful evening, enjoyed themselves, and we have every intention of carrying on the tradition."
Funds raised through the event will support community projects.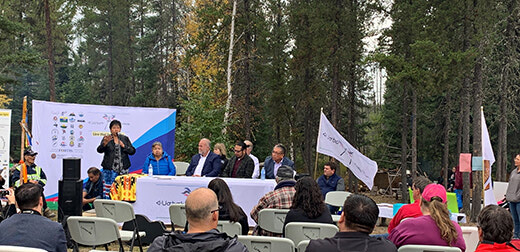 Wednesday, September 20, 2023
North Caribou Lake First Nation held a celebration in the community on September 14, inviting Wataynikaneyap Power, Opiikapawiin Services, government, and other stakeholders to celebrate energizing the community, following their annual Hunting Festival...