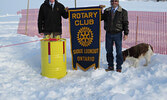 Rotary barrel out on Pelican Lake for this year's predictions
Reeti Meenakshi Rohilla -
Staff Writer
The Rotary Club of Sioux Lookout has kicked-off its eighth End of Winter Contest, encouraging people to make their predictions for the date and time the Rotary barrel will sink through the ice on Pelican Lake. The winning prediction is based on the time reflected by a clock that is tied to the barrel that stops as soon as it sinks.
Rotary Club of Sioux Lookout member Dick MacKenzie said, "The clock is on and now we're just waiting. I think it's a fun event for people in the community who like to try to predict things like that. It's more than just a guess, it's not a guess. It's more about prediction based on some historical factors that a person's best understanding of what the upcoming few weeks might bring weather wise."
The barrel has been placed a few hundred yards down the shore from the town beach. MacKenzie said that there has been almost a month's range in the time of the barrel sinking in the past. In the past seven years, it has ranged between April 14 in 2017, and May 11 in 2014.
Ticket sales end on April 15, or the day before the barrel sinks, if that occurs before April 15. MacKenzie said, "COVID may have an impact on ticket sales because ordinarily, we are out and around selling tickets…and we are doing it strictly online this year." The contest is open to anyone over the age of 18.
Fifty per cent of the ticket sales are used as prize money for the winning prediction, and the same amount goes towards the Rotary club for local projects. MacKenzie shared that the winning amount has been as high as $1,200-$1,400 in the past.
MacKenzie said that his long enamor with Alaska's barrel sinking contest sparked the idea to bring this event to Sioux Lookout. "There are barrel sinking and things like that going on in all kinds of places. But the one in Alaska attracts hundreds and thousands of people. So, I brought the idea to our Rotary club, just to see if we would be interested in trying it on a smaller scale," he added.
MacKenzie clarified a common misconception that the barrel's sinking is not the official ice out time for Pelican Lake. "Separate records have been kept for that for 70-80 years. The barrel sinking is not officially ice out, it will usually sink a week or two before the ice out is official," he concluded.
People can visit www.endofwinter.ca for a live webcam view of the barrel.