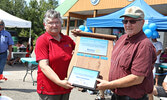 Ron Lemmon named 2019 Jack McKenzie Memorial Award recipient
Tim Brody - Editor
Ron Lemmon is this year's recipient of the John Alexander "Jack" McKenzie Memorial Award.
Presented before a large crowd during the opening ceremonies of the 37th Annual Sioux Lookout Blueberry Festival on August 2, the award is presented annually by the Rotary Club of Sioux Lookout and recognizes outstanding volunteerism, as exemplified by the award's namesake.
Over the years Lemmon, who was born and raised in Sioux Lookout, has volunteered with Sioux Lookout Minor Hockey, the Ojibway Power Toboggan Association, Abram Lake Local Roads Board, Drayton Local Services Board, Sioux Lookout Figure Skating Club, Sioux Lookout Volunteer Fire Department, as well as being Kids Day organizer from 1983 to 1987.
Lemmon's nomination reads as follows, "Ron has been involved in volunteerism throughout his life, and has been involved in various organizations that shared his passions. Beginning his volunteerism at a young age, Ron started volunteering in his late teens as a referee for Sioux Lookout Minor Hockey. With a brief interruption to serve our country in the Navy (Victoria BC), Ron returned to Sioux Lookout and continued to offer his time and efforts to both Minor Hockey and the Snowmobiling club. With fervor for what the beautiful landscape that northwestern Ontario has to offer, Ron and a group of like-minded individuals became the founding members of the Ojibway Power Toboggan Association (then Club). He was the club's first Vice President, 2nd President (1 year) and has continued to contribute in various positions including Building Co-ordinator, Signage Co-ordinator, Groomer Operator, Trail Warden, Member of the Board of Directors (since incorporation) and is still an active member with 55 years of service. He has also assisted in various club activities: Snowarama, Poker Derbies, Potlucks, and many training opportunities for current and future members.
"Sports and play time are the tip of his philanthropy seeking the betterment of Sioux Lookout, Drayton (unorganized area), and surrounding areas. Ron joined the Abram Local Roads Board to assist with the upkeep of his neighbourhood. In 1977 he joined the Drayton Services Roads Board to assist with developing a safe community. In 1977 the unorganized area surrounding Sioux Lookout did not have fire protection, and as a member of the Sioux Lookout Volunteer Fire Department, Ron knew the importance of living in a safe place. He and the other members of the Board strived to reach an agreement with the Department and Town of Sioux Lookout to ensure that the area would be covered if an emergency occurred or the unthinkable happened. The Services Board also knew there were other potential partnerships, and Ron introduced the concept of Kids Day as an event for the second Blueberry Festival. The Services Board teamed up with the Fire Department to have an all-day event that included a parade, foot races, games and a go cart event! As the years went on the Kids Day event transferred over to the Fire Department to organize and run in its entirety. Ron participated for several years. Ron assisted the Sioux Lookout Figure Skating Club with many carnivals in set design and building."
"Ron was recognized for 40 years on the Sioux Lookout Volunteer Fire Department, prior to 'retirement'", his nomination also informs.
"Ron has been actively volunteering since his late teens continuing throughout his adult life. He has been a great role model of volunteerism in many aspects of this Town for younger generations of children and adults alike," Lemmon's nomination further states.
Other nominees for the 2019 Jack McKenzie Award included Andrea Boles, Dorothy Broderick, Cathy Carpenter, Lynda Ducharme, Rob Favot and Alyson Martin.
Boles was recognized for her support of trainees taking part in the Equay-wuk training program.
Broderick was recognized for her volunteer contributions with the Kid's Kaleidoscope Children's Entertainment Series, Sioux Lookout Anglers and Hunters: Air Cadet League of Canada: Sioux Lookout Skating Club: Catholic Women's League: Sioux Lookout Rifle and Gun Club: Cozy Cabin, Family Day Skating Trail Bonfire at the Beach, and Sioux Lookout's Pitch In program.
Carpenter was recognized for offering a live yoga class taught by online yoga teachers, free for the public and patients and staff at the Sioux Lookout Meno Ya Win Health Centre.
Ducharme was recognized for her contributions to Sioux Looks Out For Paws animal rescue, and prior to that, Second Chance Pet Network.
Favot was recognized for his service to the Sioux Lookout Volunteer Fire Department (which he is currently Chief of), as well as his involvement in coaching minor hockey, high school hockey, and the years he has spent refereeing hockey.
Martin was recognized for her contributions to the Sioux-Hudson Entertainment Series as well as the organization Matters of the Heart a pilot community arts engagement project in Sioux Lookout designed to work with indigenous and non-indigenous youth and adults to improve relationships and the physical and mental wellbeing of young people in the community.
Rotary Club of Sioux Lookout member Susan Barclay shared, "Again, we were faced with a difficult decision. There are so many people in our community who spend hours of their time making sure that everyone has the opportunities that they deserve. Rotary's motto is "Service Above Self". All of our nominees exemplify that to the fullest. Thanks to those who took time to nominate persons and a huge thank you to all in the community who give of their time for their neighbours, our children and our community."
Previous recipients of the Jack McKenzie Memorial Award have included: 1992 - Margaret Atwood, 1993 - Rose Caswell, 1994 - Jack Carroll, 1995 - June Wallace, 1996 - Ella Williams, 1997 - Les Johnston, 1998 - Marnie Hoey, 1999 - Beth Daley, 2000 - Wally Glena, 2001 - Emma Bowes, 2002 - Muriel Anderson and Wayne C. Pearen, 2003 - Paul Brown, 2004 - Mario Facca, 2005 - Rachel George, 2006 - John D.Cole, 2007 - Jack Reek, 2008 - Attilio Durante, 2009 - Christine Hoey, 2010 - Eileen Jefferies, 2011 - Sandra Lockhart, 2012 - Althea George, 2013 - Peggy Sanders, 2014 - Gail Roy, 2015 - Florence Woolner, Terry Lynne Jewell, Aileen Urquhart, and Faith Ferre, 2016 - Michela Pauselli Salter, 2017 - Nordic Nomads Ski Club - Ron Laverty and John Davies, 2018 - Bruce George.