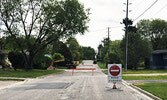 Road work
The Municipality of Sioux Lookout is advising the public of a temporary road disruption.
The intersection of Prince Street and Second Avenue will be closed to through traffic this week for reconstruction and resurfacing.
Local traffic only access will be maintained for affected area residents.
The intersection is expected to be open to all traffic by 4:30 p.m. on June 5.