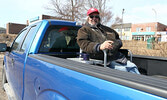 Retired newspaper editor to become a common sight around town
Tim Brody -
Editor
Sioux Lookout resident and retired Sioux Lookout Bulletin Editor Dick MacKenzie will now be making a lawn chair a regular part of his truck's cargo. Why you ask? To touch base with friends he's missed during the COVID-19 pandemic and maybe meet a few new ones.
MacKenzie will be going out a few times a week, for an hour or two at a time, to park his truck in a public place, and while seated comfortably in the back of his truck in his lawn chair, wave at people as they walk by and maybe strike up a few short, physically distanced, conversations.
MacKenzie said the idea struck him following a quick trip to the grocery store, where he ran into a couple of friends in the parking lot, where they struck up a short, distanced conversation.
"It was so heartening I thought fondly about it all week," he shared.
"After a year of being so restricted this will be, for me, a nice way to be with people again, out in the open air," he concluded.