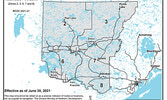 Restricted Fire Zone implemented in parts of northwest region as forest fire situation heats up
Tim Brody -
Editor
Due to the high to extreme forest fire hazard, effective 12:01 a.m. last Wednesday morning (June 30), the Ministry of Northern Development, Mines, Natural Resources and Forestry implemented a Restricted Fire Zone (RFZ) in the Kenora, Fort Frances and Dryden Districts, and southern portions of Sioux Lookout and Red Lake Districts.
The Restricted Fire Zone will be in effect until further notice.
Outdoor fires are banned. The Ministry says portable gas stoves may still be used BUT must be handled with extreme care.  
People can learn more about Restricted Fire Zones at https://www.ontario.ca/page/outdoor-fire-restrictions.
The Municipality of Sioux Lookout informed, "During a Restricted Fire Zone, no open air burning of any kind is allowed and all Municipality of Sioux Lookout Fire Permits are suspended for the duration of the RFZ. This includes a ban on grass fires, debris and campfires (even if using an outdoor fire grate), burn barrels, outdoor fireplaces, and fire pits.
"A Restricted Fire Zone does not restrict outdoor recreational activities like camping, hiking, and fishing. But if you need heat for cooking or warmth, you will need to bring a portable gas or propane stove along with you. Please note that portable charcoal grills are not allowed during an RFZ – except within 100 metres of your home, on your property."
"Please exercise extreme caution during an RFZ," the Municipality added, further advising, "Be careful with anything that could start a fire – including setting off fireworks. Watch your propane or fuel-fired equipment carefully. Pay attention to hot ashes and butts if you smoke. Please make sure all matches or cigarettes are completely out before disposing of them."
Fire crews continue to battle several forest fires in our area according to the Ministry of Natural Resources and Forestry's Aviation, Forest Fire and Emergency Services (AFFES).
Information Officer Chris Marchand shared on Friday afternoon, "The weather trend that you've seen in western Canada, the heat dome, high heat, low relative humidity, that's kind of sitting over northwestern Ontario and just escalating an already strong potential for forest fires. There's some uncertainty as to when we can really expect any widespread rain to moderate that hazard that we are building. With recent lightening we do expect to see plenty of new fire starts."
Marchand was proven prophetic as there were 38 active fires in the northwest region on Friday afternoon, growing to 53 active fires by Sunday evening.
"Really one of our goals is to minimize human caused fires at a time when our resources are under significant demand," he explained.
Sioux Lookout 17 continues to burn approximately 88 kilometres north Sioux Lookout and 33 kilometres south of Slate Falls First Nation.
Marchand said the fire is not under control at 1412 hectares in size.
"Work continues on that fire. Crews are supported by helicopters bucketing water and heavy equipment working while they're establishing hose lines," he informed.
Sioux Lookout 3, burning approximately 15 km north the Lac Seul First Nation Kejick Bay settlement area, is under control at 3427.5 hectares in size.
Another fire of note in the area is Sioux Lookout 32, located west of De Lesseps Lake, approximately 114 kilometres northeast of Sioux Lookout. The 1.0 hectare fire is not under control.
Marchand said the fire required the use of water bombers during the initial attack of the fire.
People can find information about forest fire activity in the area and view an interactive map at: https://www.ontario.ca/page/forest-fires.
People can find out more about forest fires at www.Ontario.ca/forestfire.
Asked about the smoke people in the Sioux Lookout area noted last week, Marchand shared, "There are a few fires in the northwest from which that smoke could be arising, the most probable culprit is Kenora 51, which is a fire which is 100 kilometres north of Kenora in a semi-remote area…it's now over 15,000 hectares and has been showing some real extreme fire behavior in the past week. It's likely the source of much of the smoke drift that residents of the northwest have been experiencing from time to time over the past week."
As of Sunday evening, Kenora 51 continued to expand its boundaries in the Eagle/Snowshoe/Woodland Caribou Provincial Parks, growing to 22,252 hectares.