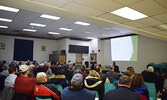 Residents provide questions, concerns during budget meeting
Jesse Bonello - Staff Writer
More than 50 community members filled the Upper Legion Hall Jan.9 for a public input meeting in regard to the 2019 draft budget.
Presented by treasurer Christy McIntomney, the public input meeting agenda went over the operating budget (including variances), donation requests, how the tax dollar is spent, asset management, annual grants, capital projects, municipal debt, reserves and reserve funds, and a 2017 outstanding project.
Throughout the evening community members raised questions and concerns as McIntomney went through the presentation. Questions were directed to various representatives from throughout the municipality. Some of the municipal sectors with representation included recreation & culture, planning & development, municipal council including Mayor Doug Lawrance, day care management, economic development, human resource management, airport management, and corporate services management.
Topics of heavy interest and concern among those in attendance included a biomass heat project, renovating the Sioux Lookout Library basement so it can be the new home of the Sioux Lookout Museum, Mill Road reconstruction in Hudson, tax levied boat launch upgrades worth $60,000, a tax levied software upgrade at the Recreation Centre worth $52,000, municipal debt, and the residential tax rate.
Council members and Mayor Lawrance said they appreciated seeing a large turnout and rate of participation during the meeting.
"I was hoping there'd be a really good turnout and there was. I really appreciated everyone coming out, giving their time, and asking pertinent questions," said councillor Corey Lago.
"I think it's always good to have the publics' input and for them to let us know how they feel about certain topics or issues," shared councillor Joe Cassidy.
"It was great to hear what everyone had to say, and it was all being recorded by staff. All but one council member was here, so we've heard what these people had to say and it will be considered as we deliberate moving forward," said Lawrance.
"We always hope for big turnouts at public meetings and tonight was probably a bit more than anticipated. It was great having the good turnout," he continued.
Lago and Cassidy, who are among council's newest members, said that diving into the draft budgets has been quite the learning experience.
"It's been a really good experience. I'm learning a lot, doing a lot of research, and I'm trying to be very prepared for each meeting I go to," said Lago.
"It's a big learning curve. I think the biggest thing is understanding some of the obstacles that staff do face here and have to work around," said Cassidy.
The Upper Legion Hall was used for the public meeting in hopes of housing more people than the council chambers. Sioux Lookout resident Tony Crispino said he liked the questioning, location, and some of the presentation formats this time around.
"I thought this format was better than the ones in the past…The location was also better because it was able to house so many people. It was a great opportunity for everyone who wanted to show up and voice their concerns on the rising cost of living in Sioux Lookout," he said.
"The infrastructure manager proposed four options for one of his expenditures in 2019 and I thought it was a great idea. I think when council proposes these things the community would like to see that. We'd like to see option A, B, C, or D in order of cost," he continued.
Sioux Lookout resident Sean Gaudry echoed what many others in attendance would like to see before the budget is finalized.
"With all the numbers out now, let's hope that council, and the mayor, take the challenge and see if they can come up with a very reasonable or zero tax increase," said Gaudry.
The next budget meeting will take place Jan. 30 and, due to the high interest in the Jan. 9 public input meeting, the location has been changed from the Council Chambers to the Upper Legion Hall in hopes of housing another packed crowd. Municipal Clerk Brian MacKinnon pointed out that the next meeting will not only present the next drafts, but also re-explore topics that were of heavy interest and concern on Jan. 9.
"The January 30, 2019 special council (budget) meeting will include a presentation of the next drafts of the 2019 operating and capital budgets, a review of the public input received at the January 9 budget open house, a report on the municipal access points (commonly known as boat launches), and related topics.
"The purpose of this meeting is to enable council to deliberate on all of the information and input received to date, and to provide direction to staff regarding the budgets. The direction given to staff on January 30 will determine the contents of the subsequent set of draft budgets, which will be brought forward at the February 20, 2019 regular council meeting, potentially for approval by council," said MacKinnon.
Council members hope to see another large crowd Jan. 30.
"I hope a lot of people come out and, again, see what transpires there and what questions are asked," said Lago.
"I hope there are lots of people at the next meeting. The more the better," Cassidy concluded.
To see the Jan. 9 meeting agenda and documents in the near future, go to www.siouxlookout.ca and click on the public documents shortcut on their homepage.