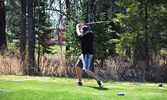 Residents enjoy sunshine, warm weather during opening week of golfing at SLGCC
Jesse Bonello - Staff Writer
The Sioux Lookout Golf and Curling Club (SLGCC) officially opened on May 19, allowing golfers to enjoy a sunshine-filled week on the course last week.
"It's been a great start. We were really fortunate to have solid weather this week. Lots of golfers have been coming out, and it's been fairly busy throughout the day. People are excited to be back on the course," said Interim Club Manager Dylan Harp.
The SLGCC is currently operating with new health and safety policies during COVID-19, including increased tee times, calling ahead to book tee times, and clubhouse limitations.
"We are complying with directions from the government in terms of what we can and can't do… Currently tee times are every 15 minutes, which is up from about every eight minutes, so tee times have roughly doubled. The provincial minimum is 12 minutes, and as things develop, as we get more into a routine, and as demands might increase, that is a number we may shift towards," said Harp.
The SLGCC said they're receiving positive feedback from golfers so far regarding the course conditions and the new policies.
"Feedback so far has been very positive. The course is in great shape, and I've heard great things about the greens… People are understanding. They see that this isn't something the Sioux Lookout Golf Course is implementing, but it's affecting not just people across Ontario but also Canada and the world. They are happy to be out and doing that, and the accommodations seem to be going well," said Harp.
"People are more than welcome to call, book a tee time, and get out if they have a chance. Any new updates will also be announced through the Facebook page (@SiouxLookoutGolfandCurlingClub),"
he concluded.
In a news release on May 14, the Government of Ontario announced golf courses among additional workplaces that can reopen.
"As soon as 12:01 a.m. on Saturday, May 16, 2020:
Golf courses will be able to open, with clubhouses open only for washrooms and restaurants open only for take-out.
Marinas, boat clubs and public boat launches may open for recreational use.
Private parks and campgrounds may open to enable preparation for the season and to allow access for trailers and recreational vehicles whose owners have a full season contract.
Businesses that board animals, such as stables, may allow boarders to visit, care for or ride their animal," the news release informed.