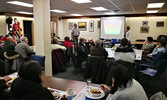 Residents attend Hub Transit lunch, presentation
Jesse Bonello - Staff Writer
Approximately 25 Sioux Lookout residents attended a chili lunch hosted by Hub Transit, which featured an update presentation on the transportation service, in the Lower Legion Hall on Jan. 17.
Hub Transit board chair John Bath said he was happy with the turnout at the event.
"You never know what you're going to get for people coming out because you don't know how much interest there is, but I'm really happy with the turnout today. People believe the bus is a good thing," he said.
Bath shared during the presentation that the recent ridership, and fast-growing popularity, has exceeded their expectations.
"Last year we actually budgeted for 9000 riders in 2018, and we thought we were pretty bold to do that," he said.
"Last year we were at over 10,000 riders and, this coming year, we budgeted for 11,000, but I think we'll be around 12,000 to 13,000 total riders," he continued.
Bath also shared that overall feedback has been great. People have been surprised with their rates, which are $4 for a one way fare, $6 for a same day return trip, $58 for a Hub Pass with 20 one way rides, and the recently reduced monthly Hub Pass that was lowered from $110 to $90. Specifically, Bath said people are surprised to hear that it's not a municipal bus system.
"The people who come from the north, particularly who ride on it, are absolutely amazed that we have it. Even though it's not a municipal system, people from out of town think it is and I think that's great for Sioux Lookout," he said.
Moving forward, Bath wants to try and expand Hub Transit to surrounding communities like Hudson and Lac Seul, but it would require some tweaking.
"The rides from there, for people who want to go to work and have to get to the hospital, would be worthwhile if we could get over there. We'd have to have about six people riding the bus at a time and we'd probably have to figure out some kind of schedule that covers everybody, but we'd sure love to get going over there," he said when asked about reaching people in Hudson.
"We've also talked to Lac Seul to try and tie them into the system…We have to keep pushing on that because I think that will make it a true Municipal bus system," he concluded.
Hub Transits rates, route map, schedule and more information is available at the Sioux Lookout Recreation Centre, Municipal Offices, or at 738-1844.