Report From Parliament Hill
Eric Melillo, MP, Kenora Riding
Dear Constituents,
It was a busy week in Ottawa, as the House of Commons debated Bill C-29 the implementation of the National Council for Reconciliation, and had an emergency debate on Hurricane Fiona and the damage done on Canada's East Coast.
Ending the Carbon Tax
This past week my Conservative colleagues and I put forth an Opposition Motion calling on the government to cancel their scheduled tripling of the carbon tax on April 1st. With the price of basic goods rising and staggering high gas prices across the country, now is not the time for any new tax increases.
Sadly, the Liberals and NDP voted against this and without further action April 1st the carbon tax will increase causing gas prices to skyrocket across the country once again.
My colleagues and I will continue to fight against all upcoming scheduled tax increases. In a time where cost of living is at record highs, government should be making life more affordable not raising taxes on hardworking Canadians.
National Day of Truth and Reconciliation
Friday, September 29th marked the second annual National Truth and Reconciliation Day. I appreciated the opportunity to participate in the Walk for Wenjack alongside students from Lillian Berg Elementary School, and join in at events the Kenora Harbourfront.
I hope everyone took some time to reflect on Canada's past, and how we can work together to advance reconciliation.
Working for You
If you're planning to be in Ottawa, and are interested in attending Question Period or taking a tour of Parliament please let me know and my office can help reserve Question Period and tour tickets.
As always, if there is anything my office can assist you with, please call me at 807-223-2182 (Dryden) or 807-468-2170 (Kenora) or email me at [email protected].
Sincerely,
Eric Melillo
Member of Parliament,
Kenora Riding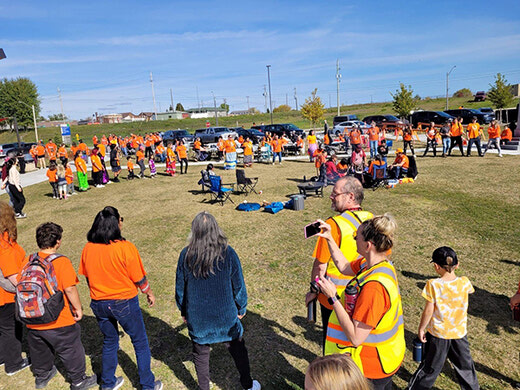 Tuesday, October 4, 2022
Local organizations came together on Sept. 30, the National Day for Truth and Reconciliation, to host Orange Shirt Day at the Town Beach...