Report From Parliament Hill:
Eric Melillo, MP, Kenora Riding
Dear Constituents,
I enjoyed spending time this week in Dryden at the Great Northern Ontario Road Show and meeting those taking part in the CPCA Precision Pistol Championships. I also met with representatives from the Tourism Industry Association of Ontario and Nature and Outdoor Tourism Ontario, along with camp owners, to discuss the need for the government to end mandates and scrap the use of the ArriveCan app. This week I also attended the Lake of the Woods Hospital staff appreciation dinner, where I enjoyed being able to celebrate the outstanding work our frontline workers have done and continue to do.
Hospital Staffing Shortages
The recent news that there may be temporary closures of emergency rooms across the region due to staffing shortages is an urgent concern. We need and deserve equitable access to healthcare services. Well, traditionally, healthcare has fallen within provincial jurisdiction. I believe there is more room for federal partnership to support our healthcare system beyond financial transfers. The pandemic has shown us that the federal government can play a role within healthcare without overstepping the province's role.
When residents in northwestern Ontario are at risk of not having emergency services available to them, I believe that becomes an every level of government issue and one we should all dedicate ourselves to working together on.
I am advocating at the federal level for a more streamlined process to ensure recent immigrants who are trained and qualified to work in our hospitals can have their education recognized. An issue I often hear about is the lack of housing options available in many communities where more healthcare workers are needed. It is impossible to get more healthcare workers in our region if they have nowhere to live. This is why I'm advocating for more affordable units to be built while also making it easier for developers to enter the market and expand the supply. This is a complex issue and one that will require many nuanced policy solutions, but it is an issue we must address.
I am looking forward to working with local hospital staff and all levels of government to ensure we can keep our local emergency rooms open as much as possible and build better partnerships that will serve our healthcare system in the long term.
Gas Prices
The gas prices in northwestern Ontario are among the most expensive in the country. For months my Conservative colleagues and I have been calling on the government to suspend the carbon tax and implement a GST holiday break on fuel prices. However, the government has repeatedly refused to provide this relief.
This week, after finding out all of Canada's G7 allies have implemented relief for consumers at the gas pumps, I wrote to the Prime Minister requesting he reconsider his opposition to providing gas price relief to Canadians.
Working for You
As always, if there is anything my office can assist you with, please call me at 807-223-2182 (Dryden) or 807-468-2170 (Kenora) or email me at [email protected].
Sincerely,
Eric Melillo
Member of Parliament, Kenora Riding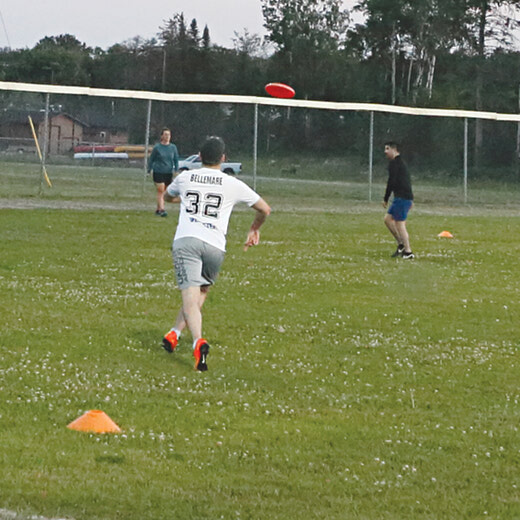 Tuesday, July 12, 2022
Participants take part in Ultimate Frisbee, under the lights, at Baseball Diamond B on July 8 in Sioux Lookout...