Report From Parliament Hill:
Eric Melillo, MP, Kenora Riding
Dear Constituents,
I hope everyone had a safe and celebratory Canada Day. I enjoyed spending the day at the Kenora Harbourfront.
Weekly Wrap-Up
This week I spent time in Kenora and Dryden meeting with constituents to discuss the issues impacting them, from the cost of living, senior's issues, inflation, and travel restrictions. I'm looking forward to bringing these concerns back to Ottawa in the fall.
Last week, I was in Sioux Narrows for the grand opening of the Science North experience in the Sportfishing Centre. If you're looking for a fun, innovative, and educational experience this summer, I highly recommend you check it out.
Passport Clinic
Thank you to everyone who stopped by for the recent passport clinic in Kenora. If you were not able to attend, my offices are always available via phone, email, or in-person meetings to assist with passport applications. Please reach out, and we will do our best to assist you.
Passport Canada is currently experiencing lengthy delays. If you have travel plans in the near future, I highly encourage you to apply for your passport or passport renewal as soon as possible.
Gas Prices
Canada is now the only G7 country not to implement a policy to give consumers relief at the gas pumps. Governments worldwide, including Japan, France, Germany, the United Kingdom, and Italy, have recognized the devastating impact high fuel prices have on consumers and have enacted policies to give consumers a break at the pumps by suspending taxes and implementing fuel subsidies.
My Conservative colleagues and I have been calling on the government to suspend the carbon tax and implement a GST holiday break on fuel taxes, which would result in an immediate reduction in gas prices in the short term.
I will continue advocating for the government to follow in the footsteps of our allies and implement gas price relief measures.
Working for You
As always, if there is anything my office can assist you with, please call me at
807-223-2182 (Dryden) or 807-468-2170 (Kenora) or email me at [email protected].
Sincerely,
Eric Melillo
Member of Parliament,
Kenora Riding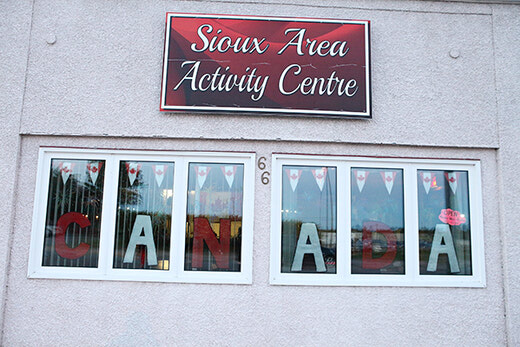 Tuesday, July 5, 2022
The Front Street facing windows of the Sioux Area Seniors Activity Centre were all decked out for Canada Day, July 1.