Report From Parliament Hill:
Eric Melillo, MP, Kenora Riding
Dear Constituents,
Recently I attended the Prospectors and Developers Association of Canada (PDAC) conference in Toronto. I had a great time meeting many of those who are supporting and helping innovate Canada's mining industry. Northwestern Ontario has tremendous mining opportunities, which provide many benefits to our region and it was great to visit the Northern Ontario Mining Showcase to discuss these opportunities with local stakeholders including Red Lake councillors Warren Badiuk and Jamie Kristoff and Chief Bill Petiquan of Wabauskang. We should all be proud of Canada's world class mining industry that provides economic opportunities across the country. 
Ending Vaccine Mandates
For months my colleagues and I have been advocating for the government to end all federal COVID-19 mandates and restrictions, this week the Liberal government finally moved to suspend some federal vaccine mandates. This means there is no longer a vaccine requirement for travel within Canada.
I welcome this news, however there are still many restrictions in place for Canadians who are planning to travel internationally and return to Canada, those taking cruises and the vaccine requirement remains in place for all foreigners trying to visit Canada. The government needs to remove these restrictions as well.
My colleagues and I will continue to advocate for all federal COVID-19 restrictions and vaccine mandates to be removed, not suspended.
Passport Clinic
I am hosting a passport clinic on June 28th from 12:00-6:00pm at the Kenora Legion (300 McClellan Avenue).
This is a great opportunity for those looking to apply or renew a passport. My staff and I will be there to assist with filling out the applications forms and will mail in your application. Further, there will be a photographer onsite who for a fee of $20.00 will be able to take official passport photos for those who are in need.
If you plan to attend the clinic please ensure you bring the required identification, and secondary identification along with your references and guarantors. The passport clinic is free of charge, but please make sure to bring either a credit card, money order or certified cheque made payable to the Receiver General for Canada to pay the Passport Canada application fee. As a reminder passport fees are, $120 Adult 5-year, $160 Adult 10-year and $57 Child 0-15 years of age.
If you have any questions please don't hesitate to call me at 807-468-2170.
For those who are not able to attend, my office is readily available to assist with any passport needs. Please reach out and we will assist.
Working for You
As always, if there is anything my office can assist you with, please call me at 807-223-2182 (Dryden) or 807-468-2170 (Kenora) or email me at [email protected].  
Sincerely, 
Eric Melillo 
Member of Parliament,
Kenora Riding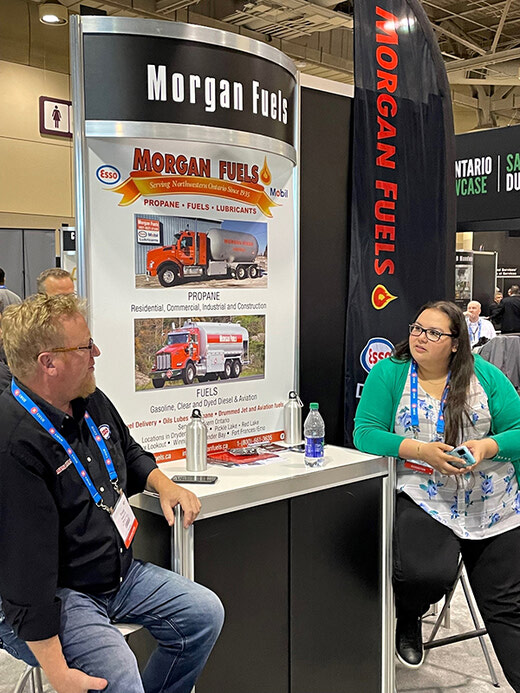 Tuesday, June 21, 2022
Representatives from Morgan Fuels were back at PDAC 2022 to meet with prospective clients at international mining convention in Toronto...