Report From Parliament Hill:
Eric Melillo, MP, Kenora Riding
Dear Constituents,
I hope everyone is staying safe as flood warnings, evacuation orders, and state of emergencies remain throughout the region.
Passport Delays
Unfortunately, despite the foreseeable increase in passport applications Service Canada was not adequately equipped to manage the influx in applications. This has caused substantially longer passport processing times, and there is no longer a guarantee of receiving your passport within the standard processing times. As international travel resumes, and this year marks the 10-year anniversary of the 10-year passport, the government should have predicted and prepared for the increase in demand for passports.
My colleagues and I have been raising this issue in the House of Commons, and recently sent a letter demanding action to the Minister of Families, Children and Social Development. We are hoping that the government will put forward a plan to quickly resolve the backlog and address the systemic issues that created this crisis. However, if you have travel plans in the near future and need to apply for or renew a passport, I urge you to do so sooner rather than later to ensure you receive your documents on time.
Passport Clinic
On June 28th from 12:00-6:00pm I will be hosting a passport clinic at the Kenora Legion (300 McClellan Avenue). This is a great opportunity for those looking to apply or renew a passport. My staff and I will be there to assist with filling out the applications forms and will mail in your application. Further, there will be a photographer onsite who for a fee of $20.00 will be able to take official passport photos for those who are in need.
If you plan to attend the clinic, please ensure you bring the required identification, and secondary identification along with your references and guarantors. The passport clinic is free of charge, but please make sure to bring either a credit card, money order or certified cheque made payable to the Receiver General for Canada to pay the Passport Canada application fee. As a reminder passport fees are, $120 Adult 5-year, $160 Adult 10-year and $57 Child 0-15 years of age.
If you have any questions, please don't hesitate to call me at 807-468-2170.
For those who are not able to attend, my office is readily available to assist with any passport needs. Please reach out and we will assist.
Working for You
If you're planning to be in Ottawa and are interested in attending Question Period or taking a tour of Parliament, please let me know and my office can help reserve Question Period and tour tickets.
As always, if there is anything my office can assist you with, please call me at 807-223-2182 (Dryden) or 807-468-2170 (Kenora) or email me at [email protected].  
Sincerely, 
Eric Melillo 
Member of Parliament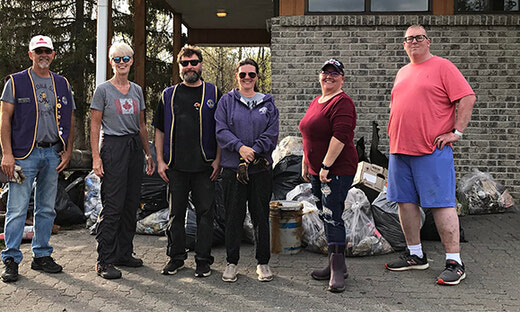 Tuesday, May 31, 2022
The Sioux Lookout Lions Club collected 30 bags of garbage in under two hours along Highway 642 on May 26...