Remembrance Day displays honour veterans
Tim Brody - Editor
Created with love, a beautiful Remembrance Day display has been set up at the intersection of Front Street and Wellington Street in front of the Legion. Additional displays have also been set up inside the Legion and at the cenotaph in Hudson.
Local residents Dorothy Broderick and Kelli George-Egerter organized the displays.
Broderick shared, "The poppy display, Ruth Coughlin initially came up with an idea to make a whole bunch of poppies and do it in a similar way that other communities have. Dryden has a beautiful display on the shrubbery outside their city hall. We thought it was time Sioux Lookout had something like that."
"We were given a donation of yarn by Jennifer Gervasi. We were able to parcel that out to knitters and crocheters," Broderick explained.
Fifteen to twenty local residents worked over a period of months to create between 300 to 500 poppies for the displays.
Six to eight people helped attach them to fabric panels last Thursday evening at New Life Assembly.
With the permission of the Municipality of Sioux Lookout, Broderick and George-Egerter draped the town clock with the Remembrance Day panels last Friday evening. "We were really happy with how it came out," Broderick said.
A panel has also been set up inside the Legion. Two panels have been set up at the cenotaph in Hudson. Broderick said there are plans to make the display in Hudson more elaborate next year.
The displays will be taken down on Nov. 12, with an intent to set them up annually.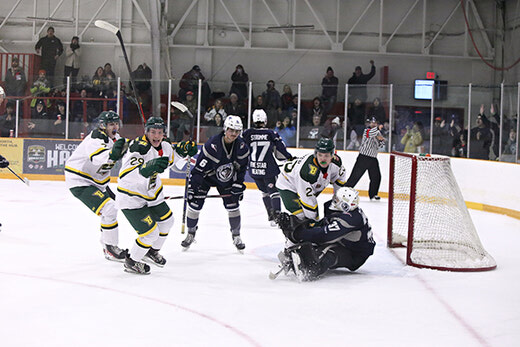 Tuesday, November 8, 2022
The Sioux Lookout Bombers defeated the visiting Dryden GM Ice Dogs 4-2 in a close game last Friday night at the Hangar (Sioux Lookout Memorial Arena) in front of a crowd of 469 people...