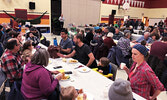 Refugee sponsorship group thanking community for supporting recent fundraiser
Tim Brody - Editor
Members of the Galatians 6:10 Refugee Sponsorship Group in Sioux Lookout are thanking the community for supporting their recent spaghetti dinner fundraiser on Jan. 25 at Sioux Mountain Public School, which included both live and silent auctions.
"We were very pleased. It went very well. Good turnout, I think we had between 150 and 200 people for the dinner," shared Merle Burkholder, a member of the group's core committee.
The event raised approximately $6000.
"It was really encouraging to see the support and see people come out. The donations that we received were really great. We were really encouraged with the support of the community. We live in a very generous community and we're grateful for that support," Burkholder said.
The group is working to bring two more refugee families to Sioux Lookout. "We brought two this year and we are now starting a sponsorship for two more families. We want to put the applications in in March… so the money that we raised last night will go towards the sponsorship of those two families," Burkholder explained.
He said both families are Christian and are originally from Pakistan, but were forced to flee that country due to religious persecution.
"Their lives were threatened in Pakistan… They fled Pakistan about seven years ago and have been living in Thailand. They're in Bangkok, Thailand now."
"We're planning to submit the applications in March and then they have to wait for their immigration interview, which is usually about a year and a half before they get their interview. Another six months after that until they have all the vaccinations and stuff, they need security checks and medical before they come, so we're probably looking at their arrival in two years, in 2022," Burkholder concluded.