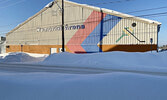 Recreation Centre, Arena reopen
Tim Brody -
Editor
Good news for local residents.
The Sioux Lookout Recreation Centre and Sioux Lookout Memorial Arena reopened on Jan. 31, the date which Ontario began to ease public health restrictions.
"Capacity limits of 50 percent will apply to non-spectator areas of the Recreation Centre and Arena, including the Fitness Centre. Spectator areas of the Arena will be limited to the lesser of 50 percent or 500 people. Appointments will be required to access the gym and fitness centre," the Municipality of Sioux Lookout advised in a January 27 media release.
"Our staff look forward to welcoming our gym and fitness centre users back to the Recreation Centre," said Recreation and Culture Manager, Rony Chakraborty in the media release, adding, "All active memberships have been extended by three weeks to make up for the lost access during the current shutdown."
Enhanced proof of vaccination and other mandated requirements will continue to apply.
"Under Ontario's current plan, all capacity limits for the Recreation Centre and Arena would be removed effective February 21st, but spectator capacity would remain restricted to 50 percent. All existing proof of vaccination requirements would remain, unchanged.
"We remind everyone to continue practicing physical distancing, wearing your mask, and washing your hands frequently. If you have not yet been vaccinated, you are strongly encouraged to do so, for everyone's health and safety. Please contact the Northwestern Health Unit for more information on upcoming vaccination clinics in the community," the Municipality of Sioux Lookout advised.