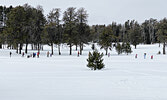 Record setting year for Sioux Lookout Nordic Nomads
Tim Brody -
Editor
"We have over 300 members this year, which is record setting for us. We had lots of people out skiing," shared Ron Laverty, president of the cross-country ski club.
Laverty said he believes COVID-19 related restrictions brought people out skiing who normally might be doing other activities.
Asked about this past season, Laverty said it was remarkable for another reason, "The trails weren't bad. We had hardly any snow this year. It's the least amount of snow I can remember… the groomers did a great job grooming what we had and making it skiable."
The club maintains 28 kilometres of trails.
"If we get any rain it will probably do the trails in. If we get a bit of snow it will be okay, but the rain will probably make things a little too icy," Laverty said of recent warm temperatures which were above zero degrees Celsius last week.
People can keep up to date on trail conditions by visiting Sioux Lookout Nordic Nomads on Facebook.
The club is raising funds for a new storage unit at Cedar Bay.
"We got the site cleared and the site prep all done and leveled off. We're just waiting for the c-can (shipping container) to come in. We actually have a 50/50 draw going on right now to raise funds for that," Laverty said.
"It's a 40 feet long new c-can and we're going to be putting a roof on it with an overhang. The c-can itself will be a little workshop and a storage area for the snow machines. The overhang will be for getting our grooming equipment out of the weather and on dry ground all the time," Laverty said, adding that people can contact him for tickets at 737-8998 or by email at [email protected].