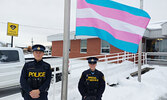 Raising the Transgender Flag
Sioux Lookout OPP constable Dylan Husak (left) and Special Constable Alex Morin raise the Transgender Flag at the Sioux Lookout OPP Detachment in recognition of Transgender Day of Remembrance on November 20th.
"This day is to honor those who have lost their lives as a result of transphobia. Be tolerant… be respectful… be educated," the detachment shared in a Tweet on the OPP North West Region Twitter page on Nov. 19.