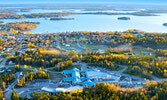 RAAM Clinic now operating out of SLMHC, Sioux Lookout Emergency Shelter
Tim Brody - Editor
A new Rapid Access Addictions Medicine (RAAM) Clinic is now operating out of Sioux Lookout Meno Ya Win Health Centres' (SLMHC) Mental Health and Addiction Program (MHAP) and the Sioux Lookout Emergency Shelter.
SLMHC shared in a July 6 media release that the RAAM Clinic offers addictions services for people interested in getting help with substance use. SLMHC informed that no appointments are necessary, and anyone can drop by for help during clinic hours.
The RAAM Clinic is open every Tuesday and Thursday. It operates out of the Sioux Lookout Emergency Shelter, located at 15b Fair Street, from 8 a.m. to 12 p.m. It then operates out of the SLMHC MHAP offices from 1 p.m. to 4 p.m.
SLMHC shared that the clinic focuses on short-term support for addictions, returning people to their primary care provider once stabilized.
"We believe in eliminating barriers to access for anyone seeking addictions-related support," stated Dean Osmond, SLMHC President and CEO. "Mental Health and Addictions services are an integral part of SLMHC as we strive to provide excellent, relevant care to all of our patients and clients across."
"Our RAAM clinic was planned in collaboration with local partners to help meet the unique needs of people who use substances in the Sioux Lookout area. By situating our clinic at both the Emergency shelter and SLMHC's mental health department we hope to reach as many people as possible in a clinical setting they feel comfort and dignity accessing care through," said Dr. Justin Bell, Chief of Mental Health and Addictions.
SLMHC shared, "The RAAM Clinic uses a team-based approach to providing evidence-based addictions treatments to those in need. The team of skilled nurses, social workers and physicians can provide support to patients and families seeking help with substance use.
"Services include assessment of substance use disorders, medication for alcohol and opioid addiction, addictions counselling, harm reduction supplies, overdose prevention education, and referral to community supports and programming."
"We're very fortunate to have such skilled and empathetic staff members dedicated to increasing access to care and reducing stigma for persons seeking help with addictions. Without them and the steadfast support of SLMHC and our community partners, the RAAM clinic would not be possible. We're very grateful for this support and hope to continue to collaboratively expand inclusive and barrier-free addictions services in the Sioux Lookout region," said Michelle Turner, MHAP Manager.
"SLMHC is committed to improving access to high-quality mental health and addictions services. We plan on expanding our RAAM clinic's hours and adding new related services in the coming months," Bell concluded.
More information on the RAAM Clinic can be found at https://slmhc.on.ca/departments-and-services/mental-health-and-addictions-counselling/.
Wednesday, July 12, 2023
Bradley Grenier, Michelle Bruyere, Julian Cospito, and Sean Brody answer this week's question.