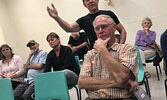 Questions remain following Town Beach remediation update meeting
Tim Brody - Editor
An update to the community on the remediation of contamination at Farlinger Park/ the Town Beach left many of the approximately 20 people who attended the meeting, looking for more answers.
Representatives from CN Rail, the Northwestern Health Unit and the Ministry of Environment, Conservation and Parks (MECP) were in attendance for the July 29 meeting at the Legion.
CN's consultants Trevre Andrews, geologist with Jacobs Engineering Group, and Alex Beveridge, geological engineer for KGS Group, presented key project concepts, an overview of the site and concerns associated with it, remedy options, and what CN's proposed path forward is.
The meeting was also discussed by Municipal Council at their August 22 regular meeting.
Jody Brinkman, Chief Building Official/ Development Services Manager, provided the following background in his report to council, "In 1987 a large diesel fuel (LNAPL – Light Non-Aqueous Phase Liquid) storage tank on CN property across the road from the Town Beach caught fire and released approximately 1,500,000 L of LNAPL. Some of which was burnt or infiltrated into the ground. An LNAPL recovery system was installed onsite in 1996 and was operated until 2008 due to minimal recovery amounts. In total approximately 600,000 litres of LNAPL was recovered. The Municipality has been working with CN and their environmental consultants, Ministry of the Environment, Conservation and Parks (MECP), Northwest Health Unit (NWHU) and Pinchin (Pinchin Ltd, one of Canada's largest environmental, engineering, building science, and health and safety consulting firms) – the Municipal environmental consultant.
"We have had monthly meetings with all stakeholders over the last few years to discuss the monitoring results, remediation efforts and the waterfront development. Several studies, reports, boreholes and monitoring results have been completed and reviewed by the stakeholders. Our consultant, Pinchin, reviews and provides their feedback to us and the stakeholders. Concerns raised by Pinchin have for the most part been echoed by MECP. A public open house was held in April of 2018 at the Heritage Train Station. The open house was held for two purposes; to showcase the proposed waterfront development and to provide an update and answer questions related to the remedial efforts at the town beach. Some members of the public did not like the format and felt there wasn't an opportunity to really learn about the proposed remedial measures and to ask questions. As a result, the Environment Committee requested to Council that an additional meeting be held which focused solely on the remediation and to be more of a presentation with the opportunity to ask questions. Council agreed and the process to hold another meeting began, it was determined at the following monthly stakeholder meeting to wait to hold the meeting until new information was available. Eventually that day came and July 29th, 2019 was picked as the meeting date."
As at the public meeting held in 2018, those in attendance on July 29 were told the sheen, which sometimes can be seen floating on the water at the Town Beach, is biogenic in nature and can occur when bacteria grows on iron from minerals.
"The iron content in the ground is higher in this area, partly due to conditions that allow more iron to dissolve from minerals. This condition is contributed to by the breakdown of the petroleum spill up gradient from the beach," literature handed out by CN at the meeting informed, further adding, "biogenic sheen occurs when the soil is both rich in iron and low in oxygen."
It was further stated by CN's consultants, and in the literature they provided the public, the biogenic sheen and iron discolouration were not harmful to people.
Andrews stated, "Like Alex said, you can differentiate between an LNAPL or a diesel sheen and a biological sheen by poking it with a stick. One is going to coat the stick and not fracture, a biological sheen is going to fracture and spread out and dissipate. I've been down to the beach six times in the last three or four years and every time I see a sheen it's just like that, where it fractures."
"There is no human health threat from the iron sheen," he reiterated.
Andrews informed, "We're checking very thoroughly as we go down vertically. LNAPL is, at closest, 25 metres away from the shoreline."
He said almost 100 samples have been taken from the Town Beach.
"A majority of those samples, more than 90 per cent, we haven't detected any Petroleum Hydrocarbons (PHC – the primary Contaminants of Concern (COC) of diesel fuel) in them. There have been some detections of petroleum hydrocarbons, but we think they're related to other activities in the lake. There's organic material, there's historic use for the site and the sediment that's on the beach is replaced every year as the ice out conditions happen. So it is something we're aware of and we're not going to stop sampling the beach. Part of our plan is the sheen protocol, where anyone who sees something that looks like contaminated soil, or oil, or a sheen on the Town Beach, we have a number on the brochure (1-844-497-0977). You can report it and someone will go out there and sample it and those results are provided to all the stakeholders to review and if there is a concern, it's addressed," Andrews said.
"The important thing is that fuel oil, or that diesel that got released, does not come into contact with people, so that is our primary goal when we work on contaminated site like this. What we're most concerned about is measuring all the material that those people would come in contact with (people on the beach or in the water). If those materials don't contain diesel or petroleum hydrocarbons at a certain threshold, then there is typically considered not to be a high concern or a safety risk," he added.
The public was told the LNAPL present at the Town Beach was located at least two metres below the ground, inaccessible to the public.
Biosprarging, the remediation method proposed by CN's consultants, was presented to the community at the public meeting in 2018.
CN shared through literature presented to the public, that the technique, "Injects air into the groundwater to increase the levels of dissolved oxygen in the groundwater, which will help prevent the biogenic sheen from forming."
Beveridge shared that four biosparging wells were dug on the beach as part of a pilot project to test how well this remediation method would work for the Town Beach.
The pilot ran from late 2018 to May of this year.
Beveridge said the results showed an increase in dissolved oxygen, which they wanted to see.
"We did see increases in the dissolved oxygen, which is what we were primarily looking for, and because we do consistently measure the dissolve phase petroleum hydrocarbons from our monitoring wells in the area, we were able to see some improvements in those conditions as well throughout the process," she said.
She stated, "Stakeholders, including CN, will continue to perform sampling at the site to identify, communicate, and manage any risks that are present at the beach. The remaining LNAPL at the site will continue to be monitored and managed as it continues to degrade under natural process."
The full biosparging system is to be constructed this fall.
Sioux Lookout resident Greg Hlady, who was cautioned several times by information session moderator Dick MacKenzie for not following the meeting's protocol of waiting until the conclusion of the presentation to ask questions, said he has observed LNAPLs floating on the water each year.
He asked CN's consultants to explain the LNAPLs on the surface water. "I've told you. I've pointed it out. I mentioned earlier this year I was finding LNAPLs," he said. He further commented, "We're listening to lies being put on the townspeople because this is incorrect. This is false information. I've got proof and I've been proving it every year and nobody is listening. You, you're at fault Ministry of the Environment and everybody up the line because you're not doing your job!"
Following the presentation, the floor was opened for questions from the public, with questioners' names drawn randomly.
Mike Quince asked why dioxins (toxic compounds) were not tested for.
"What I got in 2018 was that we're not mandated to look at anything beyond parts per million, well, to figure out if there are dioxins in the contamination, you have to do studies based on parts per billion or parts per trillion," he said. He questioned town councillors why they were not asking "strong questions" about contaminants that may or may not be present at the Town Beach.
Municipal Councillor Cal Southall responded, "I do not profess to be an expert. I'm not an engineer. I try to research everything thoroughly and come up with an informed decision. I have to depend on numerous professional people who are highly trained in these areas to give me advice."
Quince accused councillors of ignoring information presented to them by bodies such as the Municipality's own environment committee. He asked council to ask for testing at parts per billion or trillion to determine if dioxins are present at the Town Beach.
Municipal Councillor John Bath added, "I agree 100 per cent with what Cal is saying, that we are not professionals, unlike these two folks (Andrews and Beveridge) who are professionals. We don't know where the line is drawn on certain chemicals. That is not our job. That is the job of the professionals. Certainly we can ask the questions, we ask about our water supply every year and we look at parts per billion in that."
Municipal Councillor Joe Cassidy stated, "The province has a regulatory ministry, that's the MOE. We have a regulatory ministry that works with these consultants to make sure what they are telling us is factual, is accurate, and that's what we make our decisions on."
Barb Molstad proposed more research be done before the Municipality's multi-million dollar waterfront development project goes forward.
Hlady called the biosparging an interim measure.
He also questioned CN's consultants about the possible presence of dioxins.
"There was a huge creosote dock located in the same location (as the diesel tank which burned and leaked) many years ago that burnt, full of coal, made of creosote ties," he said.
Hlady told The Bulletin that a large coal dock, built out of creosote railway ties, full of coal, burned in the 60s where the diesel tank also burned.
Hlady expressed concern that dioxins could have been released into the earth from that coal dock fire, which he said could have been washed down to the Town Beach area by the diesel fuel spill.
Gina McFee-Bernier who lives by the Town Beach, said sample holes were dug on her property, but no-one followed up with her with the results of any of those tests, despite her asking they do so.
Remi Lorteau said he was concerned with the transparency being shown by the stakeholders at the meeting.
"I think we've been lied to all along. Nobody has given us any information," he said.
Andrews responded to the public's concerns, stating, "I'm not coming up here and lying to you guys… I can't hand over every report, the same way when your road gets rebuilt, the engineer doesn't come to your door and give you the design and every detail of it."
He added, "If I saw something in a report that was really dangerous, if they weren't sampling correctly, my job is to tell CN, to tell Alex, to tell whoever the other stakeholders are, you're not doing this right if I see a problem."
McFee Bernier felt more testing should be done at the Town Beach, "If the Municipality really wants to make sure our place is safe, we should be asking them to test for more."
Andrews stated, "There are so many tests that could be run. There's a reason that certain materials are tested for. If one is present, than it's an indicator that another's present. There's a reason that we don't test for gasoline, because diesel is what was spilled… there's millions of chemicals out there that could be tested for. Lakes are diverse environments. There's biology working."
Hlady commented, "This site has a number of chemicals of concern. Petroleum is one, but PAHs, creosote, are a serious concern, many of which are carcinogenic, and dioxins are a very serious concern. Now, do you want to tell me about those chemicals, have you tested for them? Have you screened for them? And what are the analytical results saying?"
Andrews replied, "We have tested for PHCs and PAHs at the site."
Hlady asked if dioxins had also been tested for and was told no.
"Why not? The history of the site shows that's a chemical of concern. The history of the site had a huge coal bin made out of creosote ties, full of coal, that burnt. It was right on that site, then diesel oil comes along, hundreds of thousands of litres wash those creosote related compounds, a whole family of carcinogenic PAHs, through the ground and out onto the beach. So tell us about the PAH story. You've sampled for PAHs, tell us about them, because there are numerous carcinogenic PAHs," Hlady said.
"There have been PAHs detected in the sediments and they have been sourced to sediment that's been deposited there. For example, the sand was replaced on the beach, PAHs in that cannot travel, migrate from the groundwater, back onto the beach. PAHs get deposited from sediment from the lake. So the PAHs, we don't know what the source is," Andrews said.
Hlady responded by stating that there was a potential source up gradient from the beach.
Andrews replied, "I'm sorry we don't have a better answer for you, other than the focus of this is on the diesel spill. I don't represent every historical use of the property. That was not identified as a Chemical of Concern."
George Hoggarth stated following Hlady's comments and Andrew's responses, "It's my opinion that there is a history, as you've pointed out many times, of the burning of creosote ties and we know that that can result in the formation of dioxins, which could have been washed down onto the beach and therefore, the terms of reference need to be expanded so that we can be certain that those dioxins don't exist there, but, that has to be something that the town council directs, in my opinion."
Lorteau said the intake for the town's water is approximately 277 metres away from the Town Beach.
"We need to know there are no dioxins in our water," he said.
Following the meeting The Bulletin posed several questions to CN as well as The Municipality of Sioux Lookout.
CN was asked if input received from the public at the meeting would have any impact on plans to continue forward with the biosparging remediation.
CN responded, "The planned biosparge system is one step of many undertaken to address concerns since the initial event in 1987. This proven proposed remediation system is the result of a collaborative process involving CN, the Town of Sioux Lookout, the Ministry of Environment Conservation and Parks (MECP) and the North Western Health Unit, and has been tested at the site."
Asked if they would be following up with stakeholders such as The Municipality of Sioux Lookout, Ministry of the Environment, or the Northwestern Health Unit, with regards to public comments and concerns received at the meeting, CN responded, "The purpose of the public meeting was to update, inform and receive feedback from residents. CN also maintains an email address and phone number that residents can reach out to at any time throughout the year outside of a public meeting."
The brochure handed out at the public meeting by CN contained the number 1-888-888-5909 and the email: [email protected] construction.com.
Asked if CN would ask for the testing of dioxins, CN responded, "CN's presentation to the community was focused on the diesel spill in 1987 and the remediation efforts associated with that spill. Concerns associated with historical land use, not associated to the 1987 incident, fall outside of the purview of ongoing remediation efforts led by CN."
The company added, "CN has and will continue to engage with local stakeholders as well as the MECP on this file."
The Municipality of Sioux Lookout was asked if input received from the public at the meeting would have any impact on plans for the Town Beach revitalization project. Their response was as follows, "The meeting last evening was to provide information specific to the contamination and the plans CN is taking for remediation. The Municipality is working in conjunction with other stakeholders to ensure that our Town Beach revitalization project is done in accordance with our funding deadline of December 31, 2020 and will be taking measures to ensure that the contamination issue will not be a detriment to our project."
Asked if the Municipality will be following up with stakeholders such as CN, Ministry of the Environment, and Northwestern Health Unit, with regards to public comments and concerns, they responded, "Yes, the Municipality will be following up on the public concerns presented at the public meeting."
Asked if a report would be prepared for council following the meeting, The Municipality shared, "Staff will be providing a report to Council with reference to the Town Beach revitalization and summary of the presentation. It is important to note that we are still looking at further options for remediation that is ongoing between the MECP and CN. Until the path forward has been established, we cannot comment at this time."
Asked if the Municipality will ask for the testing of dioxins, the Municipality responded, "A historical review of the existing borehole samples will be reviewed and a determination will be made as to whether additional testing would be required."
Asked about any potential risk to the town's drinking water, the Municipality shared, "The Municipality's drinking water supply is tested multiple times each day, per Ministry requirements, to ensure the safety of the drinking water. In addition to this daily testing, there is also Ministry-mandated weekly testing from within the drinking water distribution system. Finally, annual inspections of the treatment facility is undertaken. All of this routine testing is also summarized and communicated to the public in the annual drinking water system reports which are presented to Council, annually, in March, and are available on our Corporate Documents website as well as in hard copy at the Customer Service Desk at the Municipal Office.
"MOECP (formerly MOECC) ordered additional (i.e., over and above the routine daily, weekly and annual testing) in 2017 to ensure the safety of the drinking water supply. These additional tests focussed on sampling for hydrocarbons in the raw water. The results indicated that there was no evidence of any hydrocarbons in any submitted sample as all results were below the "detectable limits". The Northwestern Health Unit requested additional testing of both raw and treated water in August and November of 2018 and April of 2019, specifically to test for benzo(a)pyrene. Once again, all of these tests yielded results that demonstrated the ongoing safety of the drinking water supply as well as the treatment and distribution systems."
The Municipality of Sioux Lookout added, "The Municipality is taking both the revitalization project and the contamination issues very seriously. We welcomed the input from the community and will be doing our due diligence to make sure that the interests of our community are in the forefront."
At their August 22 regular council meeting, Councillor Joyce Timpson stated, "I just want to make sure that the issues that have been raised by Greg Hlady… are thoroughly discussed by the consultants when they investigate this issue."
She added, "I'm just saying discussion of the issues, explaining why they are correct or they are incorrect about the dioxins, whether the burning of the ties, creosote ties, way back, does affect anything. Otherwise this issue will carry on. We asked the public to be engaged. When they engage, it's not always going to be the way we want them to be engaged, but we have to respect that they are expressing their opinions. It doesn't mean we take direction from them, it means we address what they're trying to say."
Mayor Doug Lawrance commented, "We rely on the Ministry of the Environment, the public health unit, we rely on our staff and our own consultants engaged by themselves. We should react to reports from those groups, who are both private and public, with credibility and accountability and responsibility to do their jobs. That's where we should take our direction from."
Councillor Cassidy shared, "I talked to the consultant a little bit about this, it was after the meeting, it sounded like the way he framed the issue was that you can test for these dioxins, and you can test for them anywhere, and they're going to show up because they are a by-product of burning fossil fuels and stuff like that. People driving their boats, there's 70 boats there Walleye Weekend all idling. These lakes are heavily used so there's going to be some residual of that in there and to be able to prove whether or not those came from that specific instance, that's the issue.
"He explained to me there is actually a broad spectrum of these and some of the most advanced testing can only narrow down 30 of them. Then to try and pinpoint which of those 30 actually directly came from there, it's very difficult to do."
Councillor Timpson responded, "That's the kind of information that should be in writing that we need to refer to. I'm not saying either side is right. I'm not a scientist. That's the kind of information that should be available to us, what you've said now… we're going to have to respond to this."
CAO Michelle Larose commented, "The intent is to respond to Mr. Hlady's letter. He also sent a similar letter to the Ministry of the Environment and they did respond. I can tell you that our consultant is very engaged. He is working on our behalf. So we went to him after the meeting. He was there. Myself and our Manager of Development Services Jody Brinkman talked to him and I asked him to go over all of the reports so far to see, especially where they did their borehole testing, to see if there is any evidence of dioxins … to determine whether or not he thinks there's reason to be concerned on behalf of The Municipality."
She added, "Our consultant said, if you dig long enough and hard enough, you're going to find something pretty much anywhere. So far, we've been satisfied with staff, with what our consultant is saying. He's still reviewing the reports as Jody had mentioned in this report because we asked him to do that. To further dig and do more testing would be really, really expensive."
Larose further informed council that the Municipality is working with CN to ensure that the Municipality's investment in the waterfront redevelopment project is protected in the event that future site remediation is required.
Brinkman also further explained in his report, "Something else that was brought up was the "Municipal Terms of Reference" issued by the Municipality to CN for the remediation and that we stipulated sampling and testing of materials to parts per million. To confirm the Municipality did not issue a terms of reference regarding the remediation efforts, all sampling/testing is being done in accordance with MECP regulations and good engineering practice."
In his Letter to the Editor in this week's newspaper, Hlady referenced a May 3, 2018 report and presentation of the history of the site he made.
Councillor Timpson said at the council meeting she didn't know what report he was referring to.
"The first I knew about there being burning of the ties was at that meeting on July 29," she said.
Hlady clarified that the presentation and report were given to the Municipality's environment committee.
CN's full presentation is available to view on the Municipality of Sioux Lookout's website, www.siouxlookout.ca.