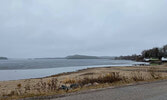 Question of the Week
During the provincial stay-at-home order The Sioux Lookout Bulletin will be looking for Your Perspective online.
The ice on Pelican Lake is melting rapidly. What is your guess for when it will fully melt away?
Derek Bull
Gone in a week I'd say.
Ryan Perrier Kowalchuk
Thursday, April 15th at 11:27 a.m.
Kayla Bonello
By Monday the 19th.
Shannon Brody
April 17th.
Dianne Belmore
April 25.
Betty Lacosse
April 21.