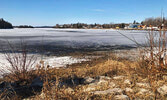 Question of the Week:
Last week we asked, with warm weather in the forecast, when do you think the ice will be off Pelican Lake?
The Sioux Lookout Bulletin is practising social distancing and has opted to get Your Perspective through social media during the COVID-19 pandemic.
Darrell Morgan
May 7.
Martha Quedent
I say second week of May. If the warm weather keeps up, the ice on Pelican Lake will be gone sooner than later.
Matt Cairns
I have my $20 in the office pool on May 6. So obviously it will be going out May 6.
Theresa Oombash-Machimity
I would have to say May 21 (also my birthday), it'll be completely gone.
Evelyn Bunting
May 17.